This blog will tell you the best border for your custom patches!
In fact, deciding which border options you would like on your custom patches is a very important decision. this decision is vital to your custom patch's appearance.
There are several border options we offer, each border gives an embroidered patches a distinct look. it is very important to know which border option looks best on which type of custom made patches, I want our customers to feel knowledgeable and confident about the border options they choose, so I am going to over our border options and explain their differences in appearance and which border is best used for which type of custom patches.
We can ensure that we provide 3 special border options for custom patches that are best for you!
Let dive right in!
Merrowed Border
Merrowed border is named after the sewing machine brands that created them, The Merrowed Border is based on a clean and simple design, adding a touch of elegance to the custom made patches.
A merrowed border is a wonderful option for custom clothing patches that are shaped into a circle, rectangle, square, or triangle.
The merrowed border option will give youe custom patches a finished, polished look. This border is 1/8″ that overlooks the patch edge, this option also prevents unwanted frayed edges. This option will give your patch durability.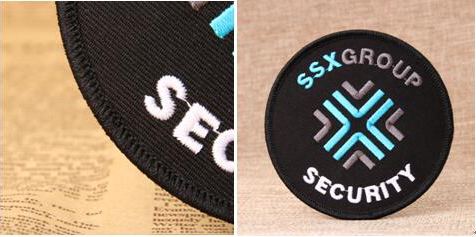 Check this out:
Advantage of merrowed border
1: Good durability
2: High decorative
3: Looks much better from the side and front of patches
Disadvantage of merrowed border
1: Only for simple shape (such as circle, rectangle)
2: There are restrictions on the width and thickness of the border (3mm)
Laser Cut Border
There is no sewn border on these patches, and it depends on the look and feels you want them to have. This option is ideal for custom embroidered patches that have an intricate shape. We cut the emblem as close as possible to the edge. This option really makes your custom patches come to life in a word, laser cut border makes your patch's to its custom shape.
The advantage of laser cut border
1: Suitable for complex or unique patches
2:Makes your patch's to its custom shape
The disadvantage of laser cut border
1:Cost higher than the merrowed border, need add $0.11/pcs
Heat Cut Border
Hot cut patches, unlike standard rounded edge patches, feature sharp, detailed edges. Heat Cut Border is a good ideal if you want your patch to have fine detail and sophisticated design features. This satin border is 1/6″ stitch going around the edge of the patch. This option is completely different than the merrowed border because it does not overlock the patch' s edge. We offer this backing option free of charge.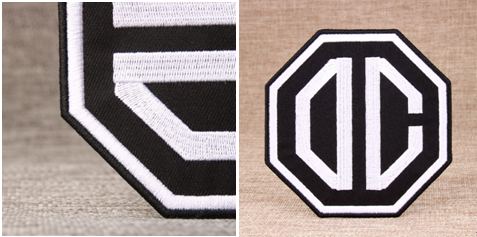 The advantage of heat cut border
1: reliability
2: The heat cut border does not become fluffy or scattered when used.
The disadvantage of heat cut border
1: It's impossible to cut off the edge of your border and a patch background has different colors.
You can click video to watch in order so you can understand more the difference between heat cut border and merrowed border.
You can choose any of 3 border options to complement your custom patches, woven patches or printed patches! Remember that your border will make your patch come together and give your patch a finished look.
In addition to the embroidered edges, you may also be interested in how to choose the right backing for your custom patches. Pls feel free to contact us If you have any further questions. We can suggest what border will be best for your custom embroidered patches with no minimum!
Our team at GS-JJ.Com is ready to help you get started and provide good services. You can learn more about our products by visiting www.gs-jj.com. You can also email info@gs-jj.com or call 1-888-864-4755 toll-free.