What is a Commercial PVC Coaster?
Commercial coasters are specifically those that are required by the company to print a series of advertising content such as corporate content labels, slogans, logos, etc. These coasters are used to help companies promote corporate culture and establish a corporate image. We all know that now that the market is fiercely competitive and wants to stand out from the rest, it must start with the details.
Water is the source of all things. People can't live without drinking water every day. Drinking water can't be separated from cups. The coasters also play a big role. So many companies decided to focus on the coaster. The coaster made of PVC material has low cost, non-flammable, high strength, weather resistance, and excellent geometric stability. It also has high-temperature resistance, non-toxic and harmless, friction large, heat-insulating, and many other advantages that have made it the first choice for many companies.
Commercialized Coasters can be Roughly Divided into the Following Categories :
1.PVC Coasters with Relevant Corporate Culture Labels
This type of PVC coaster is printed with informational materials that help companies to explain the instructions. As shown below, this is a PVC coaster customized by Gyu-Kaku, a famous Japanese chain restaurant. It's a roast beef restaurant with a cow-theme, and the meat on different parts of the cow body will be used to make a variety of exquisite dishes. However, many customers do not necessarily have a full understanding of each part of the cow, which will cause many customers to blindly choose foods, and finally eat foods that are not suitable for their taste, thus directly reducing the favorability of this restaurant, affecting enterprises Image.
The cleverness of this company is that it combines the PVC coaster with its corporate content, prints a cow on the custom PVC coaster, and marks the different parts of the cow with the corresponding names, which makes the customer can learn it at once and can better choice of the part they like as a dish to help improve the dining comfort, thereby enhancing the corporate image.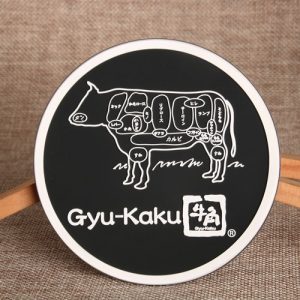 2.PVC Coaster with a Slogan
This type of custom PVC Coaster is printed with the core words of the corporate culture. Every business has a cultural slogan to symbolize themselves. For example, the slogan of sports brand Li-Ning is anything is possible! Adidas's slogan is Impossible is nothing! These slogans are meant to showcase the company's ideas. The picture below is a cybersecurity company slogan: Respect Self & Others. Its purpose is to appeal to the masses to create a healthy network.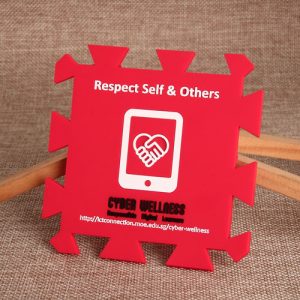 3.PVC Coaster with Logo
The use of this custom PVC coaster can help the company with identification and promotion, through the image of the logo to let consumers remember the company's main body and brand culture. These coasters are usually printed with logo text and a brand pattern corresponding to the logo. Take Starbucks as an example: Starbucks is the world's largest coffee chain. By 2006, Starbucks had more than 9,000 chain stores worldwide. "Starbucks" and logo pattern with two-tailed mermaid has long been popular and remembered by each one.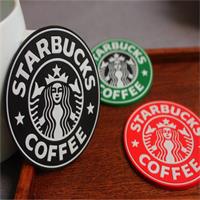 4.PVC Coaster with Contact Information
This type of PVC coaster is generally printed with telephone, address, and other contact information of one company or store. The provision of telephones enables customers to consult business more conveniently, and relevant personnel can solve customer confusion promptly, which can increase the customer's goodwill towards the company. At the same time, the provision of telephones is also convenient for customers to make appointments, which not only saves customers time spent on the journey but also promotes a more orderly organization of the business. The availability of the address can also help customers find the corresponding store faster and promote customer spending.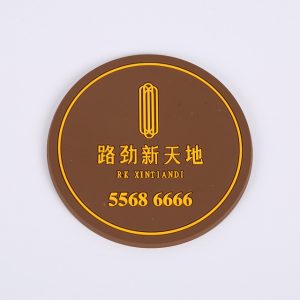 How to Customize Commercial PVC Coasters?
If you want to customize a commercial PVC coaster, be sure to look for a manufacturing factory that meets your needs in many directions. GS-JJ.com ™ is a very good choice. GS-JJ.com ™ is a professional PVC coaster maker. It has many years of experience in the production of PVC products and can grasp the precision of product production. The PVC coaster maker has a very complete and advanced PVC coaster machining equipment that reduces the error between each product to less than 0.008. GS-JJ.com ™ has led a group of outstanding design teams, bringing exquisite PVC products to thousands of customers and receiving consistent praise. It also sells many excellent PVC products on GS-JJ.com, and you can visit at any time. Here, you can directly order the products displayed on the websites or tell our excellent team about your own ideas. We will help you design a custom PVC coaster style that suits your wishes. After the style is settled, we will send the drawings to the factory for production. The materials selected in the factory are all medical grade PVC soft rubber, which will create a high-quality, beautifully formed custom PVC coaster. When all the goods are produced and inspected, they will be delivered to your hands as quickly as possible. It is worth mentioning that purchasing custom PVC coasters no minimum on GS-JJ.com which helping the buyer saving a lot of purchase funds.
What are you waiting for! If you have any questions, please consult our customer service at GS-JJ.com, they will answer your questions with the most enthusiastic service. Looking forward to working with you!
Pictures resource from:
Gyu-Kaku PVC Coaster:
https://www.gs-jj.com/pvc-patches/exhibit/gyukaku-pvc-coaster
Respect Self PVC Coaster:
https://www.gs-jj.com/pvc-patches/exhibit/respect-self-pvc-coaster