Do you think that your custom medals are universal and not attractive? Do you want to get different personalized medals? Reading on and you will get your idea.
Special Craft-Dual Plating
As we all know, plating is a surface covering where a metal is deposited on a conductive surface. Generally speaking, plating is to make your products covered the color of the metal. At GS-JJ, there are several plating – shiny gold, shiny copper, shiny silver, shiny brass, shiny black nickel. (Dye- black isn't plated) In addition, there is another special plating- dual plating. When you think that your products aren't delicate or eye-catching, dual plating is one of the best ways to make your products look attractive. Because it will cause a striking contrast. Classic collocation has silver and gold, which gives custom made medals their unique appearance. Other popular plating options include black nickel and gold as well as silver and copper. If you want your personalized medals to be unique, dual plating is deserved to be considered.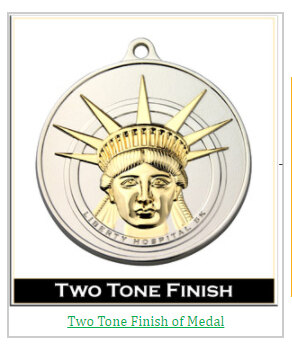 External Ornaments- Glitter Powder
Almost all products are made in a traditional way. Adding texts, logos, or images and you made it. Nevertheless, if you want your products to be praised and more delicate. Adding glitter powder is a nice way. You must know eye shadow in the cosmetics. Actors often use it. Nowadays, it is widely used in crafts, decorations, and cosmetics industries. Glitter is also named as a gleamy slice. Its characteristics are intended to enhance the visual effect of the product, make adornment part concave-convex levels, and more stereo feeling. Because of its shiny characteristic, it makes adornment thing more bright-colored and brilliance.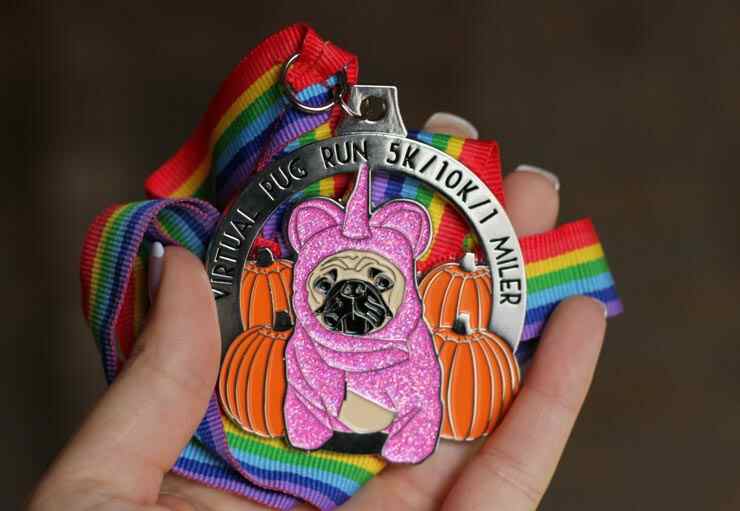 (resources: http://frugalbeautiful.com/blog/glitter-rainbows-pugicorns-virtual-pug-run-landed/)
Different Outline- Edge
You must think that custom made medals are not the only a smooth edge. And you must think about that different edge are adopted in custom challenge coins. Custom made challenge coins are similar to custom made medals. They almost adopt the same crafts. Why not adopt the design of challenge coins? When you design, you will find different beauty. There is rope edge, cross-cut edge, spur edge, oblique line edge, and bezel edge. You can know more information here: https://www.gs-jj.com/info/challenge-coins-edge. Then you can add different edges in customizing medals.
Picture( basing on Custom Challenge Coins)

Different Appearance- Shapes
Most custom medals are designed in oval or rectangle in order to keep its seriousness. But a product wants to be funnier, designing different shapes is a good idea. For example, if you want to customize running medals, you can design the posture of running; if you want to customize fiesta medals in a food competition, you can design the shapes of food. Only you dream it, GS-JJ will try their best to help you make.
GS-JJ is a rich experience custom medal maker with a high reputation. If you don't believe, you can browse our comments on the website or you can order minimum quantities for the first time. If you have any other questions, don't worry and you can contact our kindly custom service for more information. Cheap price & No minimum & Free shipping! Waiting for your order!
Samples: