The regular design may not improve the passion of the contestants, especially in the major match. Let's Look at different designs and inspiration from other running medals. So we can learn from others' strong points to offset one's weakness.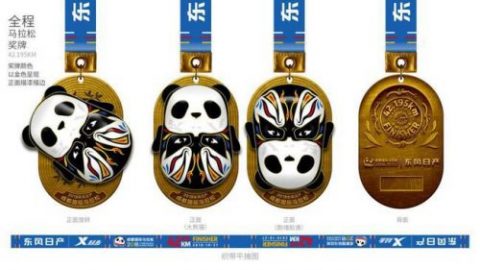 The rotating medals are used in the marathon, Chengdu, China. Giant pandas and Sichuan opera facial makeup are their symbolic signs. In order to perfectly combine the national treasure and Sichuan opera facial makeup, the designer takes the standard action of Sichuan opera "face changing" as the breakthrough point. The difference is that two faces with such high recognition degrees are integrated into the same plane and displayed in the form of "positive and negative shape" and displayed in the plane. A Sichuan opera facial makeup can turn into an innocent and cute giant panda, which forms a strong contrast in the medal and is more interesting.
Enlightenment:
Using Natural culture and humanistic culture to make your running medals unique. For instance, mascot, landmark, historical Figures, etc.
Breaking the established design pattern and choosing rotating medals to make your running medals more interesting.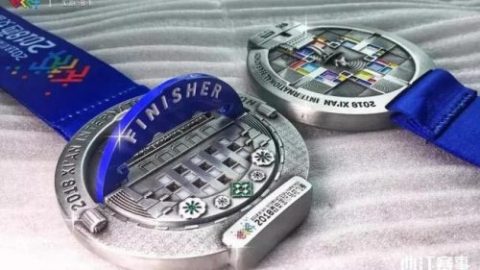 You must hear 3D design, how about 4D design? The 4D medals are used in the 2018 XIAN international marathon of China. On the obverse are the Daming palace Danfeng gate, the Ximen finish arch, and 13 LED lights. If the Ximen finish arch is lifted, the LED will be switched on and all 13 LED will turn on. LEDs can last for 50 hours. The reverse side of the medal is the Yongning gate, torch, and ripple. This 4D design must be a big draw for the increasingly picky runner.
Enlightenment:
1.Using LED to make running medals shinier. Glitter powder and Luminous powder can also make medals shinier.
You can change the internal design, making your products less regular. Some switches can win a player's love.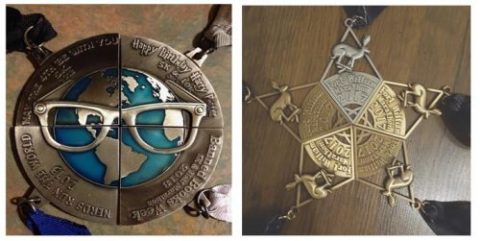 RESOURCE:
1.https://www.google.nl/search?q=medals+running&espv=2&biw=2303&bih=1265&source=lnms&tbm=isch&sa=X&ved=0ahUKEwiFkNi5lJ_MAhVGuhoKHWLRBJYQ_AUIBigB#imgrc=cBnQDm9k0EseOM:
2.https://scontent-frt3-1.xx.fbcdn.net/v/t1.0-9/15871903_10158043687960385_5142660945013840656_n.jpg?oh=dc6504feacde558db34a8201dc6054e9&oe=58DE8E95
These splicing medals are used in some running races including different races. If you have different races like 5K,10K, or other races. Or if your race is recorded at a distance. Splicing medals are very suitable. Because you can let your players fire up their passion. Each part of the medals has special meaning. When you get all medals, they can spell it as you want. In addition, splicing medals can save your costs to some extent.
Enlightenment:
Adopting splicing design to make your running medals unique when combined.
Giving each stage a different meaning and forming a consciousness -"Complete a small goal first, then the idea of a big goal".
If you still feel your running medals are not outstanding, why not change your mind and use the above thinking?