Custom keychains are wonderful additions for us to keep and hold keys in daily life. And would you like to customize personalized keychains as gifts for others to express your wishes and regards? Here are important messages and tips for freshman about custom keychains.
Popular material for keychains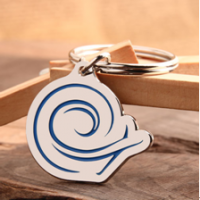 Metal keychains
Metal keychains are more durable and long lasting keychains than other materials. Most of personalized keychains are metal keychains, and Zinc alloy and brass are great based material to choose and make. It's the affordable and durable keychain, classical style.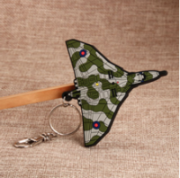 PVC keychains
The second popular and fashion keychain design is the PVC Keychain, made by durable PVC material. PVC keychains are colorful and attractive items for young people, can be created with your favorite cartoon characters or other unique design, available in any shape, color or style.
Popular crafts for keychains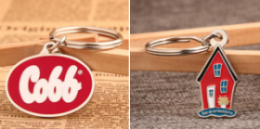 Hard enamel and soft enamel
Hard enamel or soft enamel craftsmanship is main choice for us to design metal keychains. Custom keychains in any shape with soft and hard enamel colors are popular items among clients and collectors.
Hard enamel keychains are highly polished, feature with smooth surface and look more delicate and expensive. And soft enamel keychain looks with fresh and vibrant images, color areas are recessed and metal lines are raised. Lovely appearance is suitable for these cheap keychains.
Cut out Keychains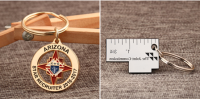 Cut-out design is just a preference for keychain design, and often used to express and display business name and logo more clearly. Cut the extra parts inside or outside as you need.
Offset printing Keychains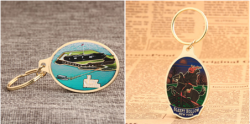 If your custom keychains feature with detailed photos or views, then we had better to choose printing process. Offset printing keychains are inserted with beautiful image, more details and images can be showed as vivid.
Popular ring styles for your keychains
We all know, there are mainly two parts for each keychain, key tag and key ring. Besides the keychain tag, the ring part is also an option to make custom keychains more unique and delicate. Mostly, we see the keychains are attached with key ring in circle loop. Such as:
      Jump ring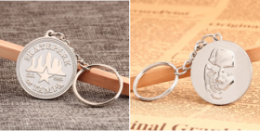 Jump ring is a common ring we often see, it is the classical key ring with series small rings. Available in different finishes, such as gold, silver or brass, and this finish choice is ups to the main metal finish.

      Split ring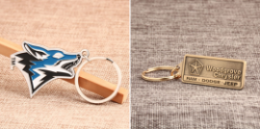 The second popular ring for metal keychain is split ring. All these type of custom keychains are attached with only one big ring to hold keys, you can pick flat split ring or normal split ring. Both of them are useful and durable ring.
        Adjustable ring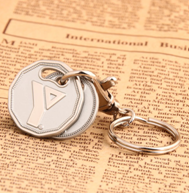 Custom keychains with adjustable ring or hook is high-level and expensive keychain. With adjustable hook, you can easily move and hang your keychain to bag chain, belt buckle or anywhere you like.
      Oval loop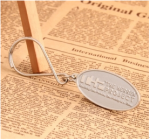 As personalized gifts and items, custom keychains can be designed in any shape or style. Even the ring part, you can adjust it as your key tag shape. Look at this oval metal keychain, it is specially attached with oval loop ring to match keychain's main style. Get the cool ring set to help you put it on your key you like!
Keychains are high quality and durable for daily use. Hope you can get your ideal cheap keychains with those above tips.