Poker Challenge Coins
As you know, Poker is a popular card game that combines various strategies and skills. Millions of people would like to play it at home or club, and Poker challenge coins are always the hottest items for the club members and excellent Poker players.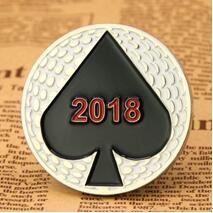 Poker challenge coins are widely used in casinos offering various card games and competitions. The idea behind the coins presents recognition for a poker player and also can be as commemorative items for their high performance in the past.

Some poker coins are made like the above picture, shaped the same as real poker cards. These poker challenge coins are often used in the casino, as card guards to help players hide their mysterious pokers. Professional poker players carry their own poker coins at special tournaments and poker game occasions. Or share with others and display at their homes or offices.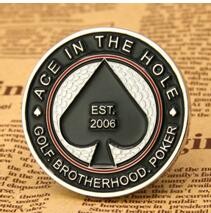 Features of Poker Challenge Coins
Besides, customized poker custom challenge coins also make great employee recognition gifts. Look at the above ACE IN THE Hole challenge coins, bear the club logo and motto on the surface. These coins for sale are great gifts to hand-out to clients and suppliers, which helps us build trust and make a great impression in business.
Poker challenge coins are fashion metal crafts, have various uses in your team, group, or other events. They have even taken the place of traditional business cards in many cases.
In some conditions, a challenge coin is a memorable keepsake item that people would like to treasure and keep. So we always try our best to design high-quality coins for sale to each customer, anyone would be happy to receive them.
What's more fun than getting personalized coins for your friends or yourself? Design your custom coins with confidence here.
GS-JJ specializes in designing and making unique coins for sale. Our talented designers can make your ideas into your favorite poker coin design. You can add your favorite image, text, and other interesting elements on custom coins here. Action now!