Do you like animals?
Why not?
Cute, lovely, or fast!
Smart, bravery, and stronger!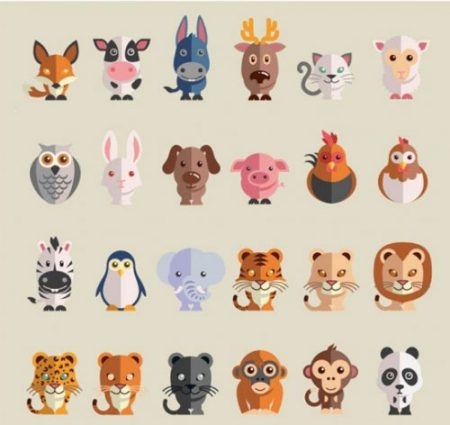 Using your favored animal elements to design running medals,
isn't it a good idea?


NO.1  King of Beast – Tiger
Tiger is seen as a symbol of seriousness, beauty, and bravery. In China, you can hear "Hazor ( a bravery soldier ) and Perplexity ( a commander's seal ) " in the ancient military. In 1998, the North Korean tiger was chosen as the mascot at the Seoul Olympics.


No. 2 Master of Monsters – Lion
Extremely fast! Stronger and brave! Fearless! The lion is seen as a spirit animal like Kylin in ancient China. In Egypt, Sphinx is famous in the world. Using a lion can show the cool of running medals.


No.3 The Landed Fastest Runner – Cheetahs
Cheetahs are the fastest animals on land. They run at full speed and can reach speeds of more than 100 km per hour. Cheetahs are like cats because they have some features. It is full of energy. Making a sharp turn at high speed is their superiority. Cheetahs are usually selected in customizing running medals.


No.4 Living Fossils of the Biological World – Panda
Panda is a very cute animal because it is charmingly naive. In China, the panda is a national treasure and protected carefully. For some kids running, running a medal with panda is a nice selection because children like a panda.


No.5 Loyalty Friend – Dog
The dog is our loyal friends. Many people keep them for a long time. Some dogs like Teddy are very cute. The dog is a smart animal because it is trained for many goals like watching the door or sniffing traces. Dogs can run about half as fast as cheetahs. In the running events, they choose their dog to run for them. Therefore, dogs and their paws are usually used for designing running medals.


No.6 An Idle Traveler – Crab
You must like eating crab because it is indeed a delicious food. Crab has eight legs. They crawl very slowly at the seaside. However, they also will compete for nutritious food.


No.7 Into the Fire – Turkey
As we all know, turkey is delicious food on Thanksgiving day. But turkey is not a chicken but a bird. Turkey symbols a stronger power. Because of its culture, the turkey element is used in the thanksgiving running.


No.8 Lovely Animal – Rabbit
Yes! A double face! The rabbit is a quiet and lovely animal. When they eat carrots, they are very quiet; when they play, they are alive and kicking. Rabbit has excellent hearing and sight to watch the surroundings. Children like rabbits. There is a metaphor when someone runs away, we will say: He runs faster than a rabbit!


No.9 Swift Horse – Horse
In ancient, the horse is the only transportation. It can travel thousands of miles a day. Horse standards for passion, optimism, and head-on. In china, horse symbols a kind of spirit – continuous self-renewal and struggle. In the horse race, horse elements are indispensable. In the race like 5k, 10k, and marathon, it is also applied.


No.10 " Meow " – Cat
Cat is a clever animal. They are small and their body is soft. They can run away. Wall- walking ability belongs to them. Cat is a partner in some families. Due to cute shape, many teenagers like it.


No.11 << Boonie Bears >> – Bear
Bear is simple and honest. They are also fat and has huge size. If you don't mess with them, they won't be angry. It looks clumsy, but actually it runs very fast, at a speed of up to 40km/h, and has excellent endurance. Bear is a state animal in Finland. If you like beer, choosing a bear for your finisher medal design is very nice.


No.12 Christmas Mascot – Deer
Deer is a very spiritual creature. We know the story of Christmas deer. They are very good at jumping. In the Christmas running, except for Santa grandpa, deer are used for designing Christmas running.


After you read, there must be a general outline in your brain, right? When you look around carefully, you will find many animals like butterflies, eagle, and so on in customizing award medals or military medals. Some elements of life are the source of your design.


Resources:
1.freepik.com
2.https://shop.wwf.ca/products/tiger
3.https://www.pinterest.com/pin/523895369122203078/
4.http://news.ltn.com.tw/news/world/breakingnews/1792374
5.https://www.virtualstrides.com/past-partner-races/
6.https://www.natgeokids.com/au/discover/animals/general-animals/cheetah-facts/
7.https://abcnews.go.com/International/lottery-winners-glimpse-japans-baby-panda/story?id=51903596
8.https://cnzsxieyuan.en.made-in-china.com/product/ejumNgsywVWB/China-Custom-Panda-Running-Metal-Medal-with-Print-Logo-Ribbon.html
9.https://southasiansnews.com/2018/08/24/the-ridiculously-cute-dog-challenge-to-distract-you-from-all-the-doom-and-gloom/
10.https://disneyparks.disney.go.com/blog/2017/04/sign-up-now-for-the-rundisney-virtual-running-shorts-series/
11.https://www.hakaimagazine.com/news/green-crabs-are-officially-delicious/
12.https://www.thespruce.com/wild-turkey-history-385522
13.https://petsmao.nownews.com/20140317-2056
14.https://www.facebook.com/5krabbitrun/
15.https://www.microsoft.com/en-us/p/running-horses/9n4g5jc11127#activetab=pivot:overviewtab
16.http://www.bigmugoftea.blog/fitness/earning-my-unicorn-medal-the-hard-way/
17.https://www.pinterest.com/dizfan/virtual-runs/?lp=true
18.https://www.shutterstock.com/search/cat+running
19.http://www.chinanews.com/gj/2014/01-15/5736887.shtml
20.https://bespokemedals.com/santa-medals/
21.https://www.fieldandstream.com/hunting-giant-whitetail-deer-during-early-bow-season
---
Knowing about more interesting blog about running medals design,
please read <<  Opening Personalized Medals World! >>  /  <<  How to Make Your Running Medals Unique ?>> !