What a Coincidence: The Same Day, the Different Festival on 11.11!
Veterans Day VS. Single's day
What a Coincidence: The Same Day, the Different Festival! Two festivals, Veterans Day in America and Single's day in China and are on the 11th, November. However, Veterans day is a formal festival while Single's day is an informal festival because it is created by young people while. Let's know more about them.
A) Thankful Day: Veterans Day in America
In America, Veterans day is a formal day. People take this opportunity to pay tribute to our veterans, especially those who have fought in previous wars. In England or Canada, they are also called Remembrance Day. The day is the ending of the first world war at 11 a.m. on 11 November 1918.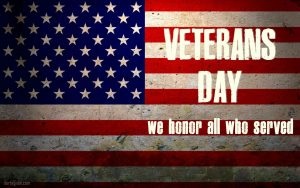 How to Show Your Appreciation For Your Veterans?
There are several ways to show thank you for them. Don't be stingy with your emotions, please express yourself!
1) Preparing a Veterans Medal
2)Writing a Letter or Making a Phone Call
3) Donating to a cause that supports veterans
4) Inviting a veteran to give a lecture
5) Attending your local Veterans Day parade
6) Spending time with a veteran
7) Being Volunteer at a VA Hospital
8) Visiting a National Park
9) Visiting The Grave of a Veteran You Have Lost
10) Holding a Party for veterans
Yes! You will have many ways to celebrate the veterans day, while on the other side of the earth, there is only one way to celebrate – just shopping!
B) Crazy Day: Single's Day in China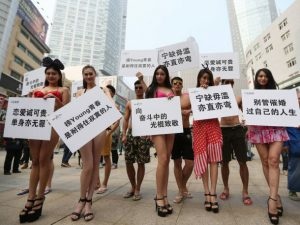 From the left to the right slogan that is taken by beautiful girls:
Being single is not a crime!
A single man is resistant to loneliness!
Hail to the struggling bachelors!
Put quality before quantity, and boyfriend or girlfriend is ok!
Never mind hastening marriage, and you should mind your own life!
The above picture is taken on a single day. They use their way to celebrate.

In China, if you travel on that day, don't be surprised why there are so many people on the street and don't be puzzled why they take shopping bags. Single's day is also called shopping day. Why? Because they are single without boyfriend or girlfriend. They need to vent their emotions through shopping. It is crazy! The appearance of the festival has two reasons: firstly, the date "11.11" is lone like single people. Secondly, because there is Valentine's Day for lovers while no festival is for a single man. An online shopping mall – Tmall, starts to hold sales promotion and get an unexpected effect. Later on, the day is regular and favored by many people and affects E-commerce in China. If you haven't been to China, you can never imagine how crazy that day was! Now Let see T-mall.
a) Sales Volume

On 11th Nov. 2017, the sales volume is up to about 25.3 billion dollars. Just one day! In China, there are about 1.3 billion people. It means that each people spends over 1 dollar. If you review the growth rate of sales volume, you may be amazed and want to join the special festival as e-commerce.

There are some key statistics:
b) Logistics Situation
Generally speaking, goods will be sent to you within three or four days. However, after a single day, logistics seems to be a mess. Parcels are piling up. It's like a disaster scene! The deliveryman shifts every day. You may receive a parcel after a week. So, be patient and wait if you buy goods on that day.

c)Returns Boom
On a single day, shopping is crazy. Nevertheless, some people will return goods later on that day. On Single' day, people will be crazy and following the blind. When the days went over, people will regret it because they buy many useless things or cost much money. But the returns are just a small fraction of the sales volume. We still have to admit that the effect of the single is huge and broad.
On 11th, Nov, the same day while different festivals! Enjoy, veterans!  Crazy, young people!
Picture Resources:
1.https://www.practicalecommerce.com/sales-on-chinas-2017-singles-day-dwarf-u-s-black-friday-cyber-monday
https://www.fungglobalretailtech.com/news/singles-day-2017-wrap-new-retail-helps-boost-singles-day-sales-record-high/
http://seattlechinesetimes.com/2015/11/12/1111/
https://blog.rakutenmarketing.com/en-uk/insights/singles-day-2017/
https://www.google.com/