Nowadays, many families have only one child who is cherished so much by their parents. Naturally, parents care so much about a child's safety. So it is no wonder that the child lost cases causes great anxiety to parents. According to media reports, the search rate for missing children is less than 1%, but the rate of eventually trafficked and the tragedy of death is quite high.
Children are easy to get lost. For example, in shopping malls, supermarkets, parks, and other large entertainment places, children are lively and active and are easy to run away. So how to effectively avoid such accidents? Custom made wristbands are a great way for preventing the loss of children, which is a necessity for parents when they take their children out. These customized anti-lost wristbands are an essential daily necessity for it can effectively reduce the chance of children lost.
But, What is Anti-lost Wristband?
Many people may not be very familiar with the anti-lost wristbands. Actually, the anti-lost wristband is a pair of wristbands which linked by a long string. And there is a built-in thickened steel wire which is difficult to cut down inside the long string,. When you are out with your child, especially for toddlers, you can wear this anti-lost wristband with your child together to avoid your baby from getting lost.
As the aforementioned point, compared with other anti-lost and positioning tools, the most important feature of the anti-lost wristband is that the built-in steel wire in these wristbands cannot be snipped. And the outer is wrapped by elastic leather or silicone, making the whole anti-lost wristband elastic and safe.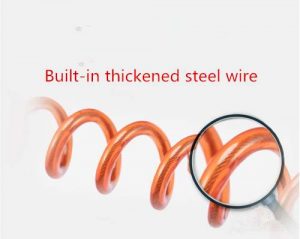 These anti-lost wristbands are made of elastic and breathable silicone wristbands, which can avoid inflammation, allergy, and other problems caused by directly contacting with skin. Thus, children and adults can use this kind of custom made wristbands without worry.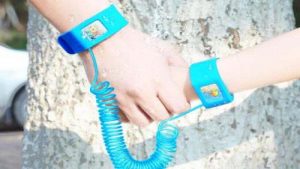 Picture source from:
https://p9-tt.bytecdn.cn/large/pgc-image/15320752632016a6723f90d
Then, The Application of Anti-lost Wristbands
Firstly, tell me, when going out with your children, have you ever met the following scenes?
There are countless people in busy shopping It seems that children will disappear in the crowd in the blink of eyes!
Take the children to the park for a stroll, they are running around in the park and it's a quilt a challenge for parents to catch up and pull back their kids. But you have to because if you don't, your child might get lost within a minute.
When crossing the road, children are always excited to rush across the road. No matter how you yell for them to come back, the children will ignore you completely and continue to cross the road as quickly as possible.
If you go out with two kids, it can be difficult to look after the two at the same time.
There will be all sorts of obstacles with taking your baby out, especially children under 6 years old. They can wander away. That is why this product can be so effective in railway stations, waiting rooms, subways, airports, supermarkets, and other crowded places.
When caring for children, safety is important. When taking a child out of the house, one must be careful, otherwise, the consequence is unthinkable.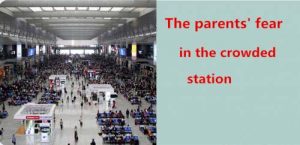 At the same time, the uses of anti-lost wristbands are also very broad, not only for children but also for the elderly, the mentally retarded. It can be seen that the anti-lost wristband is a very practical product, applicable to a wide range of people and areas.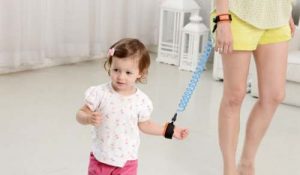 How to Use Anti-lost Wristbands
After fastening the wristband, stick tightly with the adhesive band and try to pull it towards the two sides to make sure the stick is relatively stable.
One end is tied around a child's wrist and the other end is tied to the parent's wrist so that we can keep track of the child's whereabouts at any time. The market development of children's anti-lost bracelet comes from our need for children's safety. In crowded places, we ensure the child's safety with a child's anti-lost bracelet.
Similar products include anti-loss schoolbags and so on, children's anti-loss bracelet is a more common product.
As mentioned above, large-scale public entertainment places, such as shopping malls, supermarkets, playgrounds, bus stations, exhibition halls, and any place with the high flow of people are where children are more likely to run away, and take on children's anti-loss bracelets to provide our children with more security.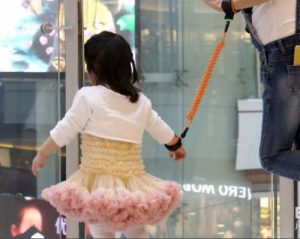 Notice Tips
As stated at the beginning of the article, modern society is advanced in science and technology, many kinds of products are full of the market, make people dazzling. Such anti-lost wristbands are produced according to the needs of the market, and indeed bring more sense of security to parents.
However, if you are away from home, there is a heavy responsibility that cannot be ignored to take care of the young, the old, and the weak.
Therefore, even with advanced product assistance, you should not be careless and rely too much on products and should be alert to children's travel safety and personal safety at every moment.
Finally, this kind of anti-lost custom made wristbands can be used as the best gifts to children; it will add the security sense to every family. GSJJ is major in producing all kinds of custom made wristbands, environmentally friendly materials so that customers can use the products safely. Except that, GSJJ undertakes a variety of gifts and crafts production, such as custom baseball pins, awesome lanyards, challenge coins, and so on, which both have wonderful quality and affordable price, any demands, you can directly view our website or call 1888644755.