On November 1st of each year, it is the Halloween we know. Halloween is also called the Gods Festival. It is a traditional festival we know well, and October 31st of Halloween is the most lively moment of this festival. To celebrate the coming of Halloween, it is usually at this time that children will dress up in a variety of cute ghosts to knock on the door from the house to house. They usually ask for candy, otherwise, they will be tricky. And it is said that on this night, there will be a variety of ghosts will also be dressed as a variety of children mixed into the crowd to celebrate the advent of Halloween, and humans are also to make the ghosts more harmonious before they dress up as a variety of ghosts.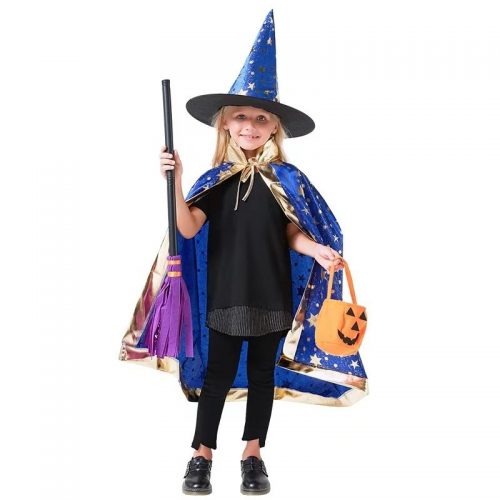 Of course, now, Halloween is a holiday for our young people, men, women, and children. On this day, everyone will dress up as a variety of ghosts to participate in various party gatherings, as well as many businesses. The Halloween event can be used for entertainment and is especially fun. I think everyone should have participated in Halloween, so how can we make our Halloween lively full of horror without losing the style? It doesn't matter, recently the famous GS-JJ.com launched a new custom version of the Halloween custom patches, specially designed for everyone who participates in Halloween, can be used to dress up our Apparel, creating our room, allows us to fully feel the atmosphere of Halloween and the enthusiasm for Halloween.
Here are a few of the Halloween custom embroidered patches in several Halloween custom embroidered patches from GS-JJ.com Custom Patches.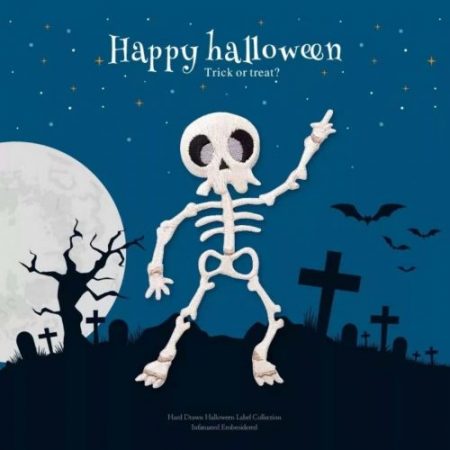 First of all, we introduce the custom embroidered patches of this Halloween Shantou shape. This Halloween Shantou styling custom patches background uses the cemetery as the background, the white moon is matched with the cold and desolate cemetery, all of which are sudden and cold. The horror atmosphere, in front of a slightly cute little white monk carrying a happy hand on the left hand, and contrasting with the cold and desolate cemetery, giving a comic effect, creating a Halloween we can Play with all kinds of ghosts. On Halloween, you are wearing this cute pimple, which will definitely make you a mega love in the eyes of everyone.
Wow, this little pumpkin head with a little pumpkin lamp is a symbol of Halloween – the pumpkin lamp, so the pumpkin pie is also a festive food for Halloween, especially in the United States. This pumpkin lamp is also legendary. The legendary pumpkin lamp was not a pumpkin lamp but a turnip lamp. It is said that there is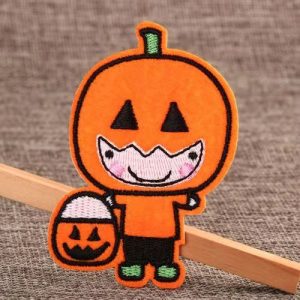 an Irishman named Jack. Because of the special jealousy of money, Jack who loves the whole person will go to the bar with Satan one day. Because two people had no money to pay after they finished drinking, he would have Satan become a sixpence coin to pay the bill, but Jack did not use it to pay but instead used a spell to hold Satan, Satan pleaded for Jack to let it go. Jack said that as long as Satan does not scare him for a whole year, he will let it out, and Satan promised. In the second year of Halloween, Satan promised not to harass Jack in the coming year, but he died when Jack was not finished this year. Heaven felt that he was not qualified to call a good person and refused to accept him. So he came to hell, but Satan had promised not to harass him. Jack, who had nowhere to go, insisted that he would not leave, and the road was too dark. So Satan threw him a piece of charcoal. He put the firewood in a hollowed-out turnip so that the fire that was about to be extinguished could burn for a long time. This is Jack's lantern Jack-O'-Lanter. After bringing this custom to the United States, the Irish found that the American-born pumpkins were better than the turnips, so Jack's lanterns were changed to pumpkins. How about, listening to our story, do you think that these embroidered patches of pumpkin shape is more and more like it.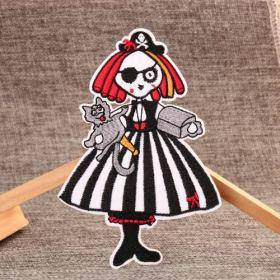 Oh, this mysterious witch, wearing a black robe, a pointed hat, and a black cat in her hand. In some European countries, the myths of household names, although they often look fierce and ugly, people like them and even make dolls when they hang at home. I believe that you dressed up as a witch in Halloween and then wear our witches custom made patches, which will definitely make you look great.
Then after reading the above Halloween embroidered patches explanation, do you know about our custom embroidery patch for Halloween? The above shows only some simple examples and introductions of us. We, GS-JJ.com The definition of the custom embroidery patch site has the above and a full range of various types of Halloween custom patches, all you need to be interested in can be found here.
These Halloween custom patches are not only worn on the body, they are the focus of the event, they can also be used to dress up your room, make it more festive, what's more, it can also be used to dress up your backpack. It is a very exciting thing for you and your friends to feel the joy of Halloween. If you are interested in continuing to learn about our custom patches, please leave your valuable suggestions below. Customize custom Patches for Halloween, making our holiday funnier and funnier, and life is more and more interesting.