In our daily life, no matter what products we buy, we will know about the products before we buy them and shop around to determine where is the right place to buy what we need. However, when it comes to some products like custom made wristbands, things are different. Although wristbands are becoming more and more popular, there are still many people who know very little about them. And when people are appealing to buy this simple and fashionable accessory, they will be faced with many questions. So, what questions do customers want to ask when buying custom made wristbands? In response to these questions, we have an on-site interpretation.
Q: What is the mean of the custom made wristband?
A: The greatest feature of custom made wristband, just as its name implies, is that customers can be a part of the production of these wristbands. That means customers can decide what the specified pattern and text content are to be added to the specified product through a variety of processes. These kinds of wristbands are normally used for specific occasions or purposes such as an event.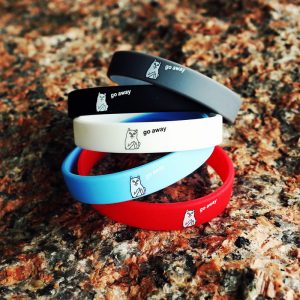 Picture source from:
https://img.alicdn.com/imgextra/i2/3874424810/O1CN01xZiYB61lP1Zc1o1HK_!!3874424810.jpg
Q: Is the silicone wristband the same as the silicone rubber wristband?
A: Silicone wristbands are actually not silicone rubber wristbands. Silicone in silicone products is not what we call the carbohydrate SiO2, but a compound called polysiloxane. Simply speaking, it is a kind of synthetic rubber. Because it contains silicon atoms, it called silicone rubber, and later referred to as "silica gel" for short.
In other words, the"silicone" we come into contact in our lives is silicone rubber, such as silicone wristbands, silicone nipples, silicone earplugs, and so on are all silicone rubber products. And the actual silicone is not silicone rubber. We need to distinguish between the two.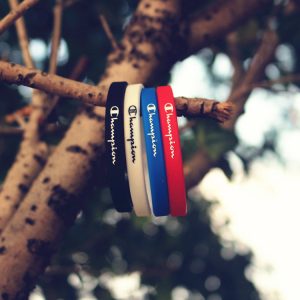 Picture source from:
https://img.alicdn.com/imgextra/i1/881551496/TB2G9ASlrsTMeJjSszhXXcGCFXa_!!881551496.jpg
Q: What kind of production process can be provided?
A: We provide many kinds of workmanship for wristbands manufacture, such as printed wristbands, debossed wristbands, color-filled process, embossed wristbands, segmented wristbands, swirled wristbands, and figure wristbands.
You can choose a single process for your custom made wristbands, or you also can choose several processes at the same time such as debossed with color filled, embossed with color printed, and so on.
If you need more detail, you can click the link to our homepage https://www.gs-jj.com/wristbands/Custom-wristbands for further understanding.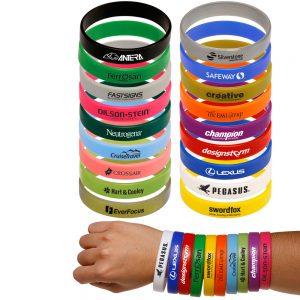 Picture source from:
https://sc01.alicdn.com/kf/HTB13LZeiamgSKJjSspiq6xyJFXaD/SILICONE-WRISTBANDS.jpg
Q: Is the silicone wristband environmentally friendly?
A: Silicone wristbands not only have the advantages of wear resistance, high-temperature resistance, non-deformation, non-toxic, tasteless, no side effects on the human body, but also soft, non-cracking, long service life, no irritation of the skin, etc. So silicone wristbands are truly green and environmentally friendly ornaments.
Q: How to keep the silicone wristbands clean?
A: Like everything else, silicone wristbands will get worn out and dirty after they've been in use for a long time. So we should clean them by the below items.
Clear Water
When wristbands are dirty, the simplest and most effective method is to use water rinse.
Wet Cloth
If the silicone wristbands are not very dirty, you can take a clean cloth to wet, then wring dry or blow dry, and then use the cloth to clean the surface of the silicone wristband.
Toothpaste
If the silicone wristbands are accidentally stained with stains or oil, brush it with a wet, soft toothbrush dipped toothpaste, and then rinse it with clean water. Dry the water with a napkin or soft cloth.
Eraser
If silicone wristbands have sticky glue marks, you can use an eraser to remove the glue marks, and then use a cotton swab to stick a little wind medical oil in the glue mark about a minute or so, and then gently wipe with a cotton swab to remove the glue marks.
Body Wash/Laundry Detergent
Apply the liquid directly to the position where it needs to be cleaned, and wash it out with clear water after full friction.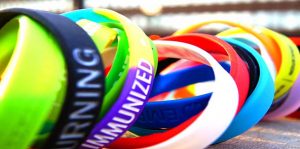 Picture source from:
https://www.bostonindustrialsolutions.com/staging/wp-content/uploads/2017/05/silicone-wristbands.jpg
Q: How to store custom made wristbands?
A: Avoid to be exposed to the high temperature for a long time;
Generally speaking, the use temperature of silicone products is -60 ℃-250 ℃, but the safety temperature is generally 200 degrees. The damage for silicone products in 250 degrees for the long-term is relatively large, the service life will be shortened. Therefore, the daily temperature, even in summer, will not have any effect on the bracelet, but in summer you should not expose your wristbands in direct sunlight for a long time, so as not to affect the service life.
Frequent Cleaning is Not Recommended;
Not frequent cleaning; suggest two or more than two bracelets can be used in turn, which can greatly extend the life of the bracelet.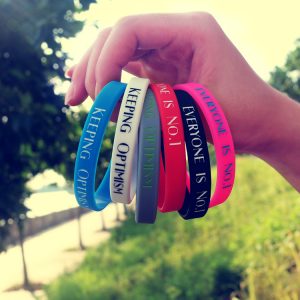 Picture source from:
https://img.alicdn.com/imgextra/i3/881551496/TB23KkUckfb_uJkSndVXXaBkpXa_!!881551496.jpg
Q: How to understand the "internal message", the front message", and the "back message"?
A: To be precise, the internal message is always in the inner ring of the custom made wristbands, which is the part that touches your skin. Then you might ask what are the front and back message. Both of them are on the same side of the custom made wristband but are arranged half and half.
Q: Can I put a logo or emblem on my custom made wristband?
A: Yes, of course. You can choose whatever logo you prefer and we can put them on your wristbands with our various workmanship. Or you also can use the standard logo that we offer to decorate. Both are OK. The regular width of our wristbands is 0.5 inches, so the height of your logo or emblem cannot over the size. Other special sizes should be confirmed with our team.
if you want to know more about our purchase policies, please visit https://www.gs-jj.com/info/faq-help or call our hotline 1888 8644755. We will answer all your questions about custom made wristbands. In addition to our awesome wristbands, GS-JJ also provides all kinds of custom gifts, including Baseball lapel pins/ Cool Lanyards and so on ……if you want to customize unique gifts, come to GSJJ.
Recommended links: