Everyone has a collection of hobbies, just the things they like to collect are not the same. Some people collect cups for special hobbies. Most people who like to collect cups are very passionate about life and pay attention to the quality of life. They use different cups when drinking water, drinking tea, drinking coffee, and drinking. Different cups represent different cultures, tea ceremony, fancy coffee, English afternoon tea… No matter which one, the first visual impact is the utensils for food. The ritual sensation brought by the vessel is no less than the food itself. And we made a beautiful lapel pin for each different style and type of cup. Look at these small and exquisite cup lapel pins, do you like it?
Iced coffee cup
The long glass that we use when we drink iced coffee or juice, it looks a cool feeling. The cup of this glass cup custom enamel pins used gold, the coffee and cream in the cup are light brown and purple. The pattern of the NORTH is displayed on the glass. Did you feel when you looking the glass cup custom enamel pins in the hot summer?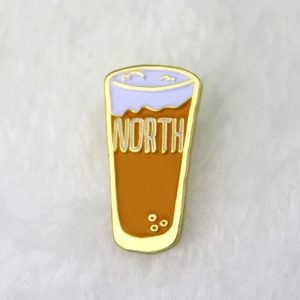 Welsh wine cup
Peoples who like to drink Welsh or vodka are sure the most familiar with this type of wine glass. The short and fat glass is the Welsh wine glass. You will immediately immerse yourself in this feeling of comfort when you drinking the Welsh or vodka and listening to a soft color of music. The Welsh glass custom pins are adopted in grey, orange and black. The orange is the color of the Welsh wine, while the gray is the color of the cup and black is a modification. Do you see a glass of vodka when you see the Welsh wine glass custom lapel pins?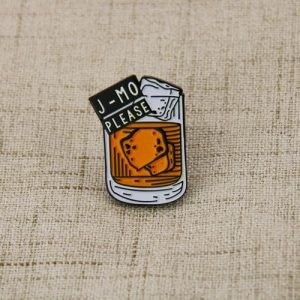 Puzzle cup
Friends who like to collect cups like the unique patterns and beautiful cups. So they think that it is very enjoyable when using this special cup. The pattern and color of this cup shirt pin are quite special which like a puzzle cup. You can put these letters together and spell out different words. This cup used light yellow, turquoise, and grey. The shape of the cup is ordinary and its special feature is a pattern. The simple cup shirt pins with a brightly colored is easy to match clothes.

Ordinary coffee cup
The coffee cups we usually use are white porcelain cups with handle. Such coffee cups are very common whether in the restaurant or at home. We have a breakfast coffee cup enamel pins here. The interesting thing about the enamel pin is not the cup itself, but the donut and the spoon in the cup which makes the enamel pins look a little more energetic. It is the hard enamel pins and very wearable. It is very spiritual to wear this breakfast coffee cup personalized pins in the morning.

Ice cream cup
It's not just coffee and juice, but ice cream also can use a cup. Our designers also have designed cute and beautiful ice cream cups stock lapel pins. Wearing the ice cream cups custom metal pins which will show fresh and cute and it instantly makes you feel younger.

The use of different cups brings a sense of ritual for our lives. Wearing beautiful accessories is also a sense of ritual for our lives. If our life lacks these senses of rituals, we will lose a lot of fun. Are you adding some beautiful decorations to yourself for your fun and rich life? We are a manufacturer of gift decoration and can customize a variety of lapel pins, medals, patches, silicone wristbands, and more. Order URL: https://www.gs-jj.com/lapel-pins/Custom-Lapel-Pins.