On different occasions, under different conditions of dressing, since the purpose is different, the natural belt is also divided into different types.
The casual cloth is divided into three categories from belt buckles.
A) Pin Buckles
Generally speaking, it has a pin on the buckle, which looks small and portable. Usually, it is pierced. You can pin it to the hole.
a)Sun Buckles / Slider / BUTTON & BUCKLE
Feature: Like Chinese characters "日 ", which means sun.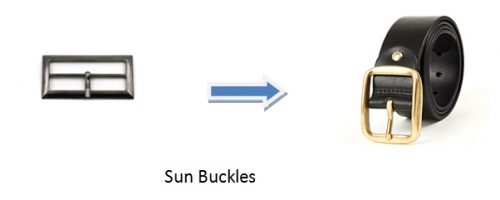 b) Octagonal Buckles
Feature: it has eight angles compared with sun buckles.

c) Knight Buckles
Feature: Two sides are wide while other sides are narrow. At first glance, the belt looks a bit tight!


d) Twist buckles
Feature:
Two sides are wide while other sides are narrow. At first glance, the belt looks a bit tight!
e) Double Pins Buckles
Feature:
there are two pins on the belt.
B) Pull Buckles
It uses western-style mostly and looks big. You can add any logo, pattern, or texts on the belt buckles. Different styles, different qualities, different materials, and different prices.
C) Cavalry Buckles
It is very different from pin buckles and pulls buckles. It is complex and very personalized. It is made up of pin buckles mainly. But the other side has a pin to hook it. Obviously, Cavalry buckles are expensive.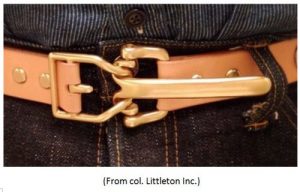 D) Other Kinds Of Belts
Leisure belt is given priority to with American western-style and American tooling model mostly.
Business and leisure belt buckles are extravagant like using crocodile, lizard, ostrich skin, and so on. It can also have brush color skin, and can also be replaced by a formal belt. The requirements are so high for matching. The simplest is to be the same color as the shoe.
A suit belt is a belt that comes with a suit jacket. The general requirement is needle buckle; then, calfskin face adds tree to the cream leather core, having seam and sealing edge; next, color is dark brown or black, with the same as leather shoes.


Belt Selection Tips:
1. There are two styles of belts: one is the hooked belt buckles and the other is the button-down belt buckles. A hooked belt buckle should go with a suit, trousers or shirt, and a button-down belt should be with a casual cloth. Dark suits should match a black belt while light color trousers can match a brown belt.
2. Leather belts are good for denim, canvas belts are suited for casual cloth and cotton pants. Belt buckle design is nice to choose a few solemn and elegant to appear elegant, mature, and cultured. The belt buckle, which is bigger and has animal design, improperly show in grand occasion. Belt buckle size should be appropriate. It is best to determine the size of the belt buckle with a personal figure and the size of the pants.
3. A shorter person deserves to be matched with a bid flat belt buckles, showing off the light spot on belly, and appearing a balanced figure. A taller, thin, and long person chooses smaller belt buckles.
Picture Resources:
1.https://banksiaproducts.com.au/solid-leather-belts-and-removable-belt-buckles-make-great-christmas-gifts/
https://www.clubfactory.com/shopping/mens-brown-suit-belt