If you're struggling to buy a unique and memorable gift for a family member or colleague, you're in the right place. Today we are going to recommend several typical thank you coins. The perfect gift to show your appreciation.
Recognition Award Custom Challenge Coins
As you can find from the back of the award coins, the sentence, "Thank you" in capital letters is quite attractive. They are crafted by soft enamel and polished with a silver finish which makes the coin look exclusive and dignified. Our professional factory manufactured the coins with high quality and pretty appearance.
The coins are specially customized for the directors of integrated avionics systems. The purpose of ordering the corporate coins is to encourage and thank those directors who work hard on these systems. Employees believe that the degree to which an organization values them plays a central role in determining their ultimate productivity.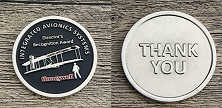 This antique copper coin has great colors and details on both sides. If you look carefully at the picture, you will see that on the front and back of the coin, red and gold hearts are printed around the coin. This beautiful design conforms to the female aesthetic. On the front, in bright and red lettering, are the words: "Thank you, Mom!" On the back is an image of a mother and child. A simple "I love you" is printed on raised brass. This is a great gift. And it will be a very happy moment for a Mother to receive this custom made challenge coins of grateful love from her dutiful children.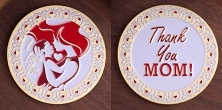 Thank You For Your Service-Veterans Coins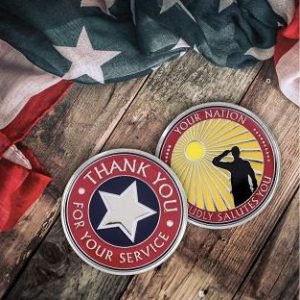 A brief thank you means a lot to Veterans. We can express our thanks to all of the troops by using the Military challenge coins,  for their service to our nation and people. The coin says "Thank you for your service" on the front side and "Your country is proud to salute you" on the other side.
Each coin is beautifully enameled and sealed with epoxy resin. Military coins like this can be given as gifts of thanks to employees, teachers, friends and colleagues. You can choose to give it on Service Day or Honor Veterans Day.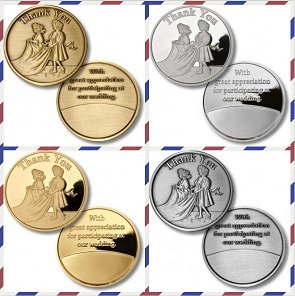 Before the wedding, the couple's close friends and relatives devote themselves to preparing for the ceremony.  Thank you wedding coin shows the bridesmaids taking care of the bride at the wedding. An exclusive thank you coin is a lasting and unique thank you to the bridesmaid. Bridesmaids and brides will always be best friends.  What is more, the thank you coin will be a testimony to their lasting friendship. Depending on the needs and preferences of different people, quality challenge coins can be made into gold, silver, ancient gold, and ancient silver just like the picture shown.
All in all, thank you coins are suitable for any people and occasion. They are portable, durable and beautiful. It's a wonderful gift for both you and me.
Resources:
https://www.gs-jj.com/challenge-coins/exhibit/recognition-award-custom-challenge-coins
https://cdn2.shopify.com/s/files/1/0041/2031/3926/products/81IattOhkNL._SL1201_2000x.jpg?v=1545729726
https://i.pinimg.com/originals/8b/2f/f3/8b2ff3ae2a8e21490e32f7235390f7af.jpg
https://store.nwtmint.com/product_details/5453/Thank_You_Bridal_Train_Wedding_Medallion_MerlinGold_/