Medals are not medals?
So, what are they?
They are flowers!
In the flowers world, there is some flowers' name that uses "medal". Let's see them!
1) Gold Medal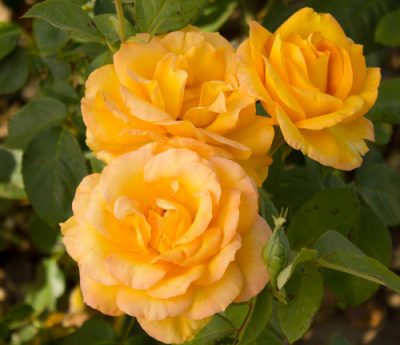 Petal: 35 – 40
Color: Orange / Gold
Flower diameter: 8-10 cm
Thermo stability: Strong
Flowering: Repeated flowering in many seasons
Gold Medal was developed by American Christensen in 1982. The gold medal is a very worthy of large rose varieties. Gold flowers are very beautiful, and the flowering period is long and very resistant to open. why not like it? The gold medal has good branching and strong plants with dark green branches and dark green leaves. It is also highly resistant to diseases and is suitable for potted plants and garden planting.
Because of the gold color, it is named the gold medal, standing for a kind of honor.
2)Medal Sakura/ Accolade Cherry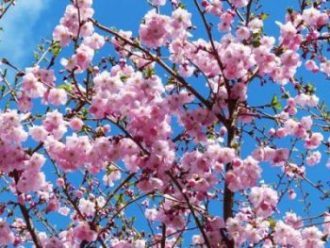 Family: Rosaceae
Name: Prunus Accolade /Cerasus 'Accolade
Petal:12-15
Color: Pink
Flower Season: Spring / Autumn
The Medal Sakura is a hybrid of P. Sargentiand P. Subhirtellain England. The Medal Sakura is round and upright, which seems to be the medal of honor, so it gets the Chinese translation of "medal". Double pale pink flower! It has deeply serrated, which is dark green, showing orange to yellow in the autumn. Bud is deep pink and becomes soft pink after opening! The Medal Sakura is bigger and more beautiful than the October cherry.
Now that flower can use the name, why don't medal use the design with flowers? In the fiesta medals or running medals, adding flower elements is more and more common. Usually, when you choose flower elements, the designer will suggest you to choose soft enamel crafts to add color, so your personalized medals will be eye-catching! Maybe this way will perfume your medal!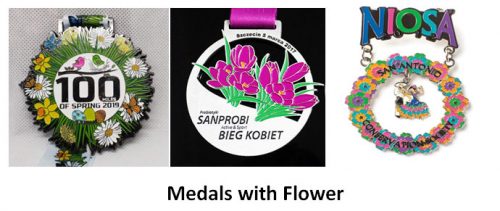 Picture Sources:
1.https://www.autumnhillnursery.com/product/gold-medal/
2.http://blog.sina.com.cn/s/blog_bc9f8f830102xcaj.html
3.https://racethedistance.com/collections/frontpage/products/100-miles-of-spring-challenge-medal-and-certificate
4.http://www.metalawardmedals.com/sale-9454128-flower-logo-double-side-sports-metal-award-marathon-medals-for-schools-environmental-friendly.html
5.https://www.sanantoniomag.com/April-2016/125-Years-of-Fiesta-San-Antonio/