If you are military enthusiasts, which gun will you keep?
The gun is the main weapon of the infantry in the Military, as well as the auxiliary weapon of other arms of the services. It is widely used in civilian security, hunting, and sports competitions. Military enthusiasts like to study not only military patterns but also all kinds of guns and some even go one step further by collecting them.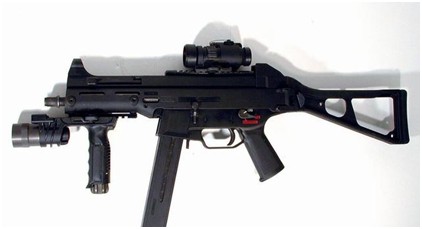 https://baijiahao.baidu.com/s?id=1605390228240069830&wfr=spider&for=pc
The UMP45 submachine gun, made in the United States, is very cheap. It costs only $850. Although the price is cheap but it has many auxiliary types of equipment, such as tactical lights, laser sights! So it is also worth collecting!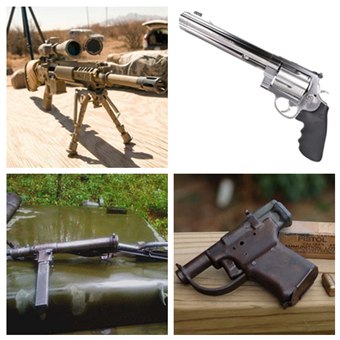 Source from: https://baijiahao.baidu.com/s?id=1605390228240069830&wfr=spider&for=pc
(Image sort from left to right, top to bottom: L115A3, Smith Wesson M500, Sten Mark 2, Liberator pistol)
The L115A3 is a long-range sniper rifle. It is famous because it has set a world record by accurately hitting two enemies from 2,475 meters away when used by a British sniper!
Smith Wesson M500 is a revolver. M500 is the most powerful revolver in the world; it is also a mass-produced revolver. The M500 revolver is simple in structure and reliable in performance. If you like revolvers, would you collect them?
The Sten Mark 2 submachine gun, despite its simple construction and rough workmanship, is a very famous weapon. It was made around 2 million units during World War II, so almost all anti-fascist countries used this gun!
Liberator pistol is a simple weapon. Normally, it was used by intelligence agents and national resistance groups, and it was distributed to them free of charge. One million Liberator pistols were produced in the United States, and the cost of each is about $2.1. But now it is very difficult to see because most of them have been retrieved and destroyed. Thus, it is not easy to collect such guns nowadays.
Even though these guns are expensive and hard to find, military enthusiasts still love them. As it is not easy to collect a real gun, why not consider collecting military PVC patches? Gun PVC patch is the most popular kind among military fans. Owning your favorite gun style is not an easy thing, but designing your favorite model of gun PVC patches is much easier.
Which Custom Gun PVC Patches will you collect?
3rd Generation Glock 26


Source from: https://zh.wikipedia.org/wiki/g26https://www.evike.com/products/79535/
The left is G26 pistol and the right is PVC Patch of G26 pistol. The Glock 26 is a handgun designed and manufactured by the Austrian gunmaker Glock and is a pocket version of the Glock 17. It needs to fire a 9 x 19 mm luger, which has a standard magazine of 10 rounds. The biggest problem with the pocket pistol is the imbalance between size and performance. In pursuit of a high degree of concealment, the size of the pocket pistol is designed to be as compact as possible. As a result, it sacrifices part of its functionality.
HK UMP Submachine Gun


Source from: http://pewpewpew.work/german/hk/ump/UMP40.htmhttps://www.evike.com/products/66116/
The left picture is HK UMP and the right picture is a PVC patch of HK UMP. Do they look exactly the same? The HK UMP is an assault rifle developed by Heckler & Koch – HK in 1998. It is available in two diameters, 45 ACP, 9 x 19 mm, and 40 S&W. HK UMP is used by a number of Special Forces and swat teams for its excellent performance, small backseat, and easy disassembly.
HK416 Rifle


Source from: https://zh.wikipedia.org/wiki/HK416  https://www.blacksheepwarrior.com/the-tiny-gun-patch-craze/
The left picture is HK416 Rifle and the right picture is a PVC Patch of HK416 Rifle. From the picture, the PVC patch model is more colorful and has cute than the real gun. The greatest feature of HK416 is its ability to maintain firepower as well as gun stability. The HK416 barrel has an extremely long life and can fire 20,000 rounds with little loss of accuracy; in addition, the gun is water-proof and weather-resistant.
M24 Sniper Rifle


Source from: http://www.thebrasstacs.com/2017/04/18/remington_m24/    https://www.valhallawear.net/dope-kills-patch/
The M24 is called the "weapon system" because it is more than just a rifle, it also includes the M3 telescopic scope, the Harris S detachable bipod and other accessories. The M24 sniper rifle is a variation of the Remington 700 rifle. It is available to military and police users. It became the U.S. army's standard sniper rifle in 1988 and is also available to the Israel defense forces.
These four guns are also classic examples of guns. And with time passes by, some flaws of these guns have gradually exposed. However, it won't reduce the military fans' love towards these guns.
Military fans, are you still wondering which gun to collect? Come and collect your gun PVC patches. They're not just collectible gun models, but they're military ornaments as well. Gun PVC patches can also be attached to clothing, bags through attachments like Velcro. Don't hesitate to buy your favorite military PVC patches.
Your favorite military PVC patches are all on GS-JJ.com. You can design your own unique military custom PVC patches according to your preference.GS-JJ Company is an experienced manufacturer of PVC patches, PVC keychains, and PVC labels. We design exquisite products for our customers, produce high-quality products, and provide satisfactory services, so as to bring a better shopping experience to our customers. Do not hesitate to contact our online customer service immediately, can also get a discount.
Maybe you are interested in: How to customize PUBG PVC Patches?