Unlike many jobs, the FBI (Federal Bureau of Investigation) agent is a dangerous job. Those agents need to fight with the evilest criminals related to counter-terrorism, counterintelligence around the world.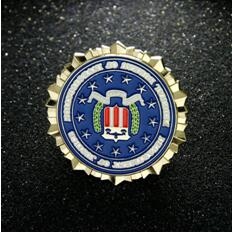 Types of FBI Challenge Coins
Most people know the FBI agent well from the known film. Great solving case skills and excellent physical ability are their labels to impress us. What they have contributed and sacrificed we know clearly. So they are always on the top ranking of our hero list.
There is a specified award program to recognize the wonderful acts of FBI agents and related law enforcement personnel. And they are limited highest honors awards for the FBI.
There are totally five kinds of awards, shaped like the FBI challenge coins. Standard round shape, metal crafts pieces.

The FBI Star is an honor for the agent who has serious injury during his service and duty. And the recipient needs a long medical treatment because of the tough and dangerous task.


This award is used to present the one who does extraordinary performance or exceptional achievements with great challenges.


The FBI Shield of Bravery is awarded for the bravest and courageous agent during on duty.


The federal bureau of investigation awards the FBI Medal of Valor in recognition of heroic and exceptional acts of personal safety. In addition, this behavior generally occurs with FBI employees. For members of the FBI, it is extremely glorious to own these exclusive FBI awards.


The FBI Memorial Star is actually a commemorative challenge coin. It is presented to a surviving family who lost an FBI hero.
Protecting the safety of the United States is the FBI's main mission. FBI challenge coins are great pieces to remember their dedicated service as an FBI agent.
Challenge coins are perfect additions for any members and groups. It can express our appreciation and recognition for their commitment to leadership and justice services.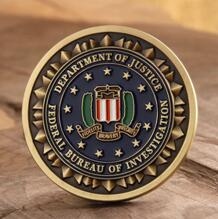 Normally, FBI challenge coins with FBI seal are presented to outstanding Law Enforcement officer or agency for their efforts ad commitments.
We can create different law enforcement challenge coins with delicate crafts. You can design your own FBI challenge coins, local Police challenge coins, Sheriff Challenge coins to meet your requirement.
The best challenge coin designs in the world, featuring unique artwork and craftsmanship you can find at GS-JJ.