Beginner's Guide for 2021
Create Your Own Pin Step by Step …
---
DESIGN & MANUFACTURE

Your Custom Enamel Pins
Many beginners still have questions about getting into the game – making their own enamel pins: "Completely zero-based, I want to customize enamel pins. What kind of knowledge do I need to master? Can you provide a step-by-step guide to learn this?" "If there is no design, are there any tools for online designing enamel pins that can be recommended?" "How much does it cost to make enamel pins?" "What's the difference between hard enamel pins and soft enamel pins?" "How to make enamel pins from scratch?"……..
The market will always be a surprise; it will smell the taste of your needs and surprise you.
Today, we will teach you how to make your own enamel pins and create your own pins step by step.
Step by Step Process of Making Enamel Pins
To make your own Enamel Pins, this guide will help you turn your designs into amazing enamel pins.
Step 01 Create Your Pin Design
Step 02 Determine Enamel Pin Craft
Step 03 Determine The Right Pin Size
Step 04 Choose Backing And Its Quantity
Step 05 Choose Enamel Pin Packaging
Step 06 Select Enamel Pin Manufacturer
Step 07 Custom Enamel Pin Cost
Step 08 Confirm and Place Your Order
More tips: About Making Your Enamel Pins
STEP 1




How to Design Enamel Pins
Design your own pins–Creating a Pin Design
No matter you are making something worth collecting, promotional pins, or just want to show your creativity, excellent enamel pins start with eye-catching enamel pin designs.
• Using professional design software to creating your designs, such as Adobe Illustrator or Photoshop,
• Or using Free Alternative Online Editor: Pixlr.com, GIMP, Paint.NET,
Even if you don't have design skills, there are many free online tools to turn your ideas into functional pin designs:
• The leading online design tools: Canva, Stencil, FotoJet, Desygner,Placeit by Envato…
• Online Design Tools developed by enamel pin maker: GS-JJ, the Pin People,
Designing your own pins is obviously a happy thing, but some error-prone details are likely to be overlooked. Here, we sort out the following points for you:
• Simplified design
• Draw the design with clean connecting lines
• Use bold lines that can be converted to raised metal
• Avoid using complex external shapes and gaps
• Consider the weight of the final pin
• Avoid shadows
• Make sure to use the PMS (Pantone Color Matching System) for colors
Or find a designer
For creators who have ideas but don't have the time or know-how to create these files, or can't make sure about creating pin design, you can also ask the professional designer for help.
Check out the payable service markets: Fiverr, Creative Market, or Upwork, and find design resources, hire graphic designers who can make your ideas into workable designs.
If your budget is limited and then free artwork design service provides by those enamel pins makers is perfect for you. You only need to provide your ideas, whether it is graphic artworks, simple sketches, or just some ideas written in text, designers will make your concept a reality and choose the right style.
The designers of enamel pins makers will provide you with digital works for your confirmation and approval. You can tweak this artwork over and over until the concept fits your needs perfectly.
STEP 2




Choose Your Enamel Pin Type
Pin manufacturers are based on two traditional processes, hard enamel, and soft enamel. However, many people even mistakenly believe that the two are the same. For most people, it is difficult to distinguish between soft enamel pins and hard enamel pins.
In addition, there are four easily distinguishable processes: Sandblasting Pins, offset printing pins, Antique pins, 3D cast or cut out pins. Each material is a real material with its own characteristics, so no matter which process you choose, you can make it an ideal high-quality pin.
Learn More: Get more information about how factory manufacturing the enamel pins.
Learn More: Get tips for distinguishing 6 types of enamel pins.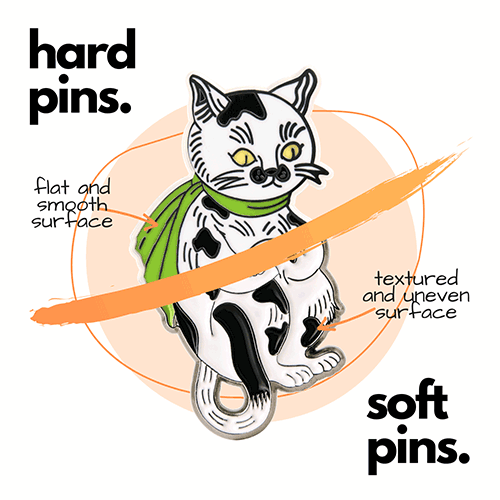 Hard Enamel Pins
Hard enamels-Their signature features fine lines and smooth surfaces that are more visually appealing to most people. These are the best looking and most professional designs. From the level of enamel and the hard polishing effect of the end, it becomes flat and smooth.
Soft Enamel Pins
Its main feature is its textured pin surface, which provides more detail and reduces costs. They are made of cast iron metal, electroplated, high temperature baked, and optional epoxy coating and usually feel thinner than hard enamel pins.
Learn More in-depth: read our post: Soft Enamel vs Hard Enamel Pins for more information
STEP 3




Choosing Your Enamel Pin Size
At this stage, it is important to determine the size of the pins to be manufactured, as this will help you determine how simple or detailed the design is. Size is related to cost. The larger the size, the greater the information and effort required, and therefore the higher the cost.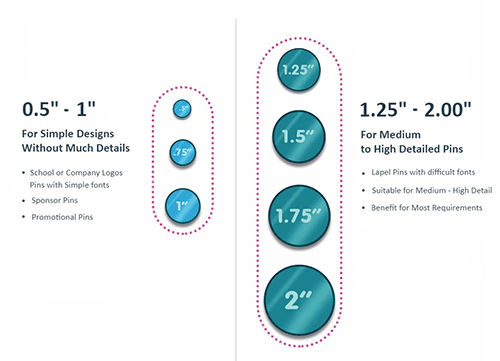 When to choose big size enamel pins?
Larger pins (1.25 inches long or 1.25 inches long) can be designed with more detail because they use a larger canvas, the bigger the enamel pin, the more detail you can add to the design. But their size also restricts where they are worn, few people wear custom 2-inch lapel pins.
Pins: 1.25″-2.00″ Sizes
● Enamel Pins with difficult fonts
● Suitable for Medium – High Details
● Benefit for Most Requirements
When to choose small size enamel pins?
Small pins are usually 0.50 to 1.00 inches wide or long. They are lighter, easier to connect anywhere, and cheaper because they use less material.
The disadvantage of small pins is that they usually do not provide unique design details. The smaller the pin, the cheaper it is.
Pins: 0.50″-1.00″ Sizes
● Suitable for Simple Designs without much details
● School or Company Logos Pins with Simple fonts
● Sponsor Pins or Promotional Pins
Learn More: Get tips for how to wear enamel pins.
STEP 4




How Many Enamel Pins and Pin-Backs You Need?
How Many attachments You Want?
The rear of the pin is just as important as the front of the pin. Different accessories have different uses and applications, so how do we choose the right pin attachment? It's not that difficult, just choose according to your own needs. We offer a selection of attachment-types: butterfly clutch, rubber cover, magnet, safety pin, luxury clutch, cuff-link, stick pin, keychain, and so on.
Learn More in-depth: Get tips for choosing the right attachments for your enamel pins.


For pin fixing, you only need to choose the right number:
For smaller pins, usually, only one backing is chosen, but when your pins are large enough, we recommend sticking two attachments! With just one attachment to secure the pin base, your pin can shake left and right in any place, and it is more likely to fall and be lost.
≥100 Pieces Enamel Pins Or No MOQ?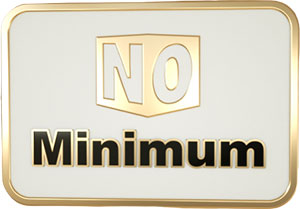 How many enamel pins should you order? The selling price starts with the cost of the initial mold. After making the first mold, each pin will be created in a copy of the mold. Therefore, increasing the quantity means lowering the average price per enamel pin.
Sometimes just tell the pin makers how much you need to order, they will give you a preferential price based on the quantity you ordered.
Most manufacturers of enamel pins will ask you to order 100 pieces in a minimum order. If you are not at ease, to reduce the risk, you can choose to cooperate with companies that offer custom enamel pins no minimum order quantity, and sample pins before mass production, for example, GS-JJ, Pinmart, EnamelPins.com.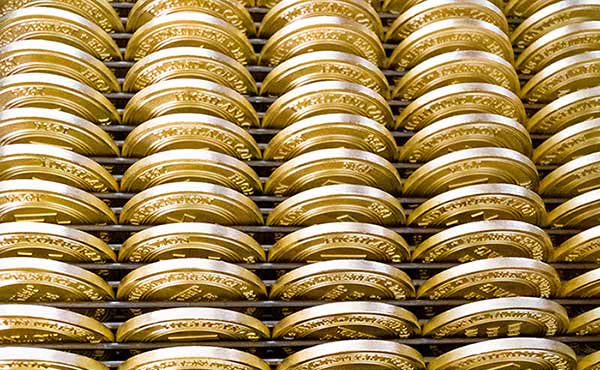 STEP 5




What Type Of Packaging Do You Like?
Most pin designers have redoubled their efforts to create support cards for each pin design and package the support cards and pins in plastic bags. The general manufacturer will provide five types of pin packaging: plastic bag, plastic bag+paper card, plastic box, velvet bag, and velvet box. Therefore, when you are deciding on the packaging, please consider where you plan to sell. The right package is the right way you can add highlights to your pins.


If you plan to sell your enamel pins at conferences, online, or other commercial stores, the more exquisite packaging will allow people to choose your products.
Acting as common giveaways, promotional pins, event pins, or if you want them to hang the pins right away, you probably should bypass the carding and bagging.
Meanwhile, if you want to use it as an ad, make sure you have a logo back cover.
STEP 6




Choose The Right Enamel Pin Manufacturer
Once you have prepared the design draft and demands, the next step is to find the right manufacturer. The pin industry has developed rapidly recently, this means that there are now manufacturers all over the world. Here is some detailed information for you to find the right manufacturer of enamel pins:
1. Rich Experience
2. Timely Feedback
3. Own an Enamel Pin factory
4. Show Comments
5. Free Shipping
6. Delivery Guarantee
7. Quality & Return Guarantee
There are many companies in North America, Europe, and Asia that provide enamel pin manufacturing. A quick Google or Alibaba or social media search for "pin maker", "enamel pin manufacturer", "enamel pin factory" will result in dozens of suitable manufacturers.
Once determine who you work with, e-mail them with a low-resolution JPG of the design (instead of the final PDF), the required materials, size, quantity, number of pins you want.
Learn More: Get tips for choosing the right enamel pins manufacturer

Or check where to order the best custom pins.

STEP 7




How Much Do Custom Enamel Pins Cost?
The cost of custom enamel pins depends on the previous six steps, the design cost can be reduced as many companies provide free design. Factors include:
Type / Quantity / Size / Color / Attachment / Package / Adds-on / Production Time
Different factors corresponding to different selections and different costs will be generated.
Bulk purchases usually ensure that you reduce costs, but only making sure you already make the most money using the best reputable services.
If you want to create multiple designs in one batch to adapt to different sales channels or to give customers multiple choices, try to use different packaging ways ( eg: 1/3 with backing paper card, 2/3 with plastic boxes) or use different enamel color collocations (solid colors or a mix of colors) based on the same mold. The pin makers will usually keep your mold for up to three years for free.
Want the more exact price? Make full use of the manufacturer's online quotation system, which is faster than an email quotation. Not only can you compare and get your ideal price in a short time but also repositioning and refine your demands step by step.
STEP 8




Confirm and Place Your Order
When you have finished the above steps, your custom enamel pin is very close to you. Now you only need to complete the order and the entire ordering process is successfully completed.
The thing to note here is to order one month before you need the pins so that they arrive on time. Usually, it takes about 2-4 weeks to reach your custom enamel pins, so please consider your ordering time, especially when the demand is seasonal. Unless you want to receive your pins after the holiday!
MORE TIPS




About Making Your Own Enamel Pins
✎

Plating
Electroplating is also called surface treatment, and it comes with some options. Plating usually includes nickel-free plating performed under the main plating layer.
Learn More: Get more information for different plating options.
✎ Pin Type
There are 4 kinds of special crafts: Sandblasting Pins, Offset printing pins, Antique pins, 3D cast or cut out pins. And plenty of special options: apply rhinestones, glitter variants, glow in dark enamel, transparent enamel, screen printing, laser engraving, epoxy coating, tassels, hanging chains, jewels additions, slider, bobble, and other gimmick pins. These add-ons are quoted based on your design.
✎ Production
Standard production usually takes 10 to 14 days. Printing design is the fastest style. Hard enamel and cloisonne have been made longer because of its complex process.
✎ Production Time
If you need to rush your order, we recommend that you require your sales representative to send the order to the factory directly for completion before the deadline. Or you can choose the pin with simpler craftsmanship, or contact for the supplier's 24-hour rush service.
✎ Delivery
Most bulk pin orders are shipped by Ground Shipping Services. Goods that need to go to multiple locations are very standard. Please make sure you have reserve enough time for delivery.
✎ Reorders
The best part of reordering is that the mold is pre-made and your order cost will be lower than the price you originally paid. You don't have to pay for the mold the next time you order the same precise design.
---
Maybe you are interested in: how to display enamel pins
Maybe you are interested in: how to store pins