Today, what we are talking about is not the buttons on the computer or the cufflinks on your cloth. These buttons are special promotional tools for companies or entertainment gifts for people. They are customizable and durable, which is named as " Walking Billboards ".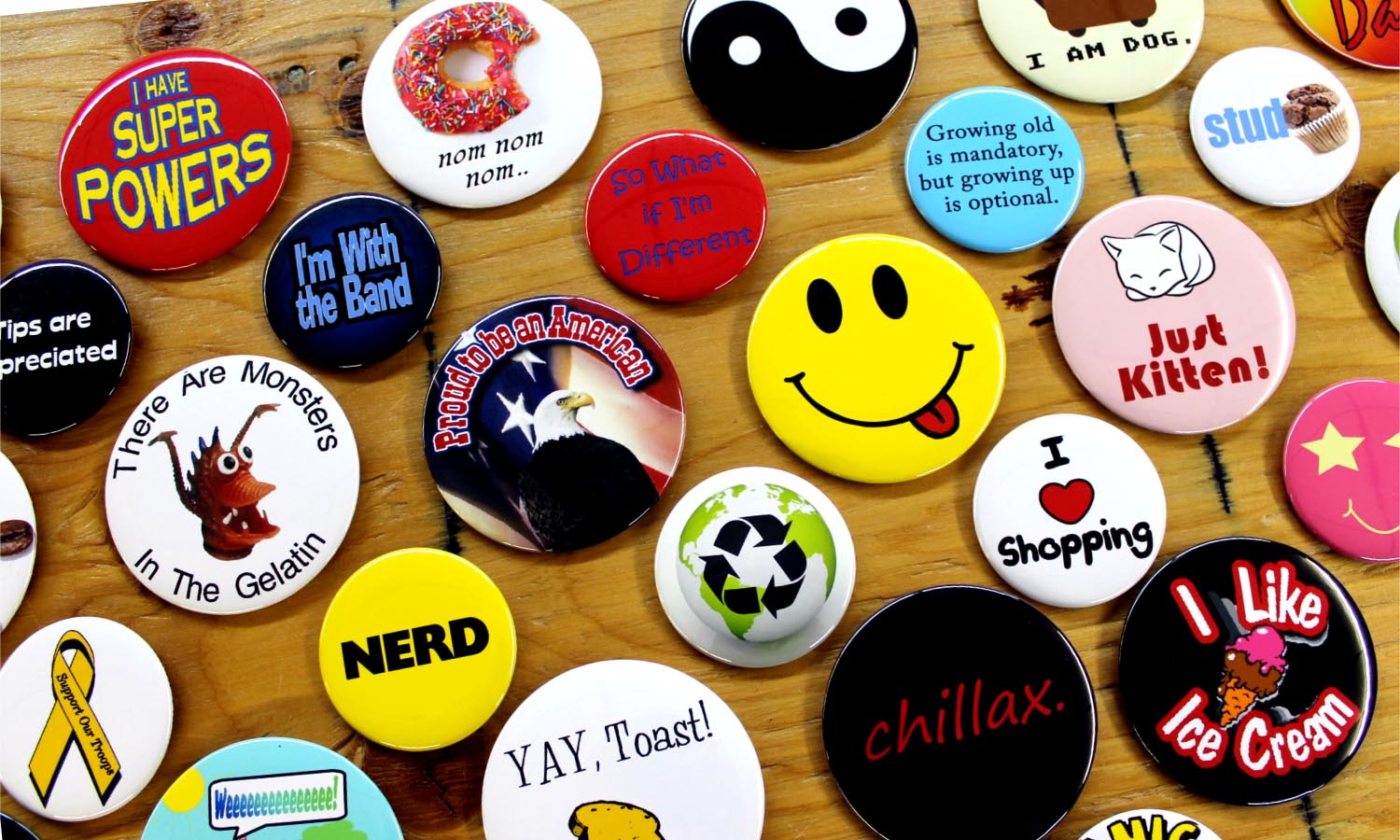 Resource: https://www.wackybuttons.com/
People all like a gift for free, which, in this way, they can feel your heart. In some famous coffee shops, they like order some buttons online or customize some buttons with their logos. They will be prod of wearing it, helping spread brand recognition and building some buzz for the shops.
        b) As promotional materials
In some campaign or competition, buttons can be used for providing promotional information. In the company, you only need custom buttons instead of working cards. On the one hand, because when you wear it, it will go along with you like walking billboards. You can promote some information that you want to convey. On the other hand, if custom buttons are beautiful and delicate, you can use them as a decoration on your cloth, bags or anything else.
      c) As tradeshow handouts
Every year, in different fields, there are too many exhibitors in tradeshow. How to attract customers? Custom buttons are very useful. They are very cheap, not easy to lost, and convenient for storing. You can give one button to them. They are willing to stop to hear what you say.
      d) As coupons
What coupons means? Compared with paper coupons, buttons may be special. Paper coupons are easy to lost or destroyed. People get buttons from you, and then, next time they can take back buttons to get a discount. I believe that some people are willing. If the effect is good, you can collect these buttons and reuse.
      e) As decoration
Some teenagers like their idol. Special design is popular. They wear use custom buttons on their cloth or bags, making their bald thins shiny.
6 Places to Give Out Buttons
a) Festivals
For example , in music or art festivals, you can use custom buttons as invitation letter. They wear it on their cloth. Of course, they can wear them to show their love to its band. It is a nice way, isn't it?
          b) Company
Company is a good place to own this. A simple smiling button can improve staff's emotion. On the one hand, it is used as a working card; on the other hand, it can promote your company to clients.
         c) Community
In some communities, they hold some activities. Custom buttons can be classified according to your requirements. When activities are finished, they can be kept as a souvenir.
        d) Teams
Teams include a very broad concept. Parades, travel team, school team or else can use custom buttons. It shows that they are a team. They can find their partners easily.
        e) Tradeshows or Exhibitions
If you want to be eye-catching in the tradeshows or exhibitions, and if you want to attract more customers, why not try custom buttons? A small gift can get a big reward.
        f) Amusement Park
Children like amusement park. Some role players use their buttons to attract children to see performance and play with the project.
4 Designs for your Custom Made Buttons
a) Less is More
You must know that the size of Buttons is almost small. Therefore, in the limited room, you must design simple logo or refined vocabulary to show what you want to convey.
         b) Avoid Button Borders
Why you should avoid some button boarders? For one thing, boarders will shrink your design. For other thing, he cutting process will be inaccurate because of small size.
         c ) Give Your Design Room
It means that, when you design your custom buttons, don't design close to the borders. After all, it is not very flat. Of course, don't far from borders or your custom buttons are a little bit strange.
       d) Ensure to Add Bleed
You must design and draw the layers as follows.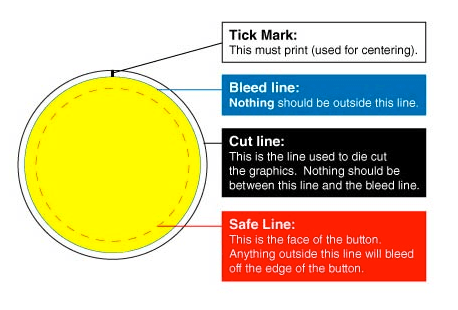 Resource: https://www.custombuttons.com/
How to Select the Size, Shapes and Colors?
Size: If your custom buttons are just used for decoration like hanging on one place, more bigger is more perfect. Because customers will see it clearly. However, in most occasions, smaller buttons are popular among people. It is easy to take and wear, which looks like more delicate.
Shapes: different shapes have different effects. For example, custom round buttons will be more recreational while custom rectangle buttons looks like formal.
Colors: In most custom made buttons, it has a main color. Let's know about the connotation of different colors.
1)Blue: trustworthy, dependable, fiscally responsible, secure, serenity, calmness, and stability.
2) Red: aggressive, energetic, provocative and dangerous.
3) Green : healthy, clean, and eco-friendly.
4) Orange: exuberance, fun and vitality.
5) Purple : High-end and elegant.
6) Black : solemn, dignified and serious.
7) Yellow : positive, outgoing and shiny.
8) White: Pure, clean and mild.
How to choose the right button backs?
a) Custom Pins Back
The traditional pins back is popular. It can be pinned on your cloth, bags or else. It is safety and sturdy. But the only thing that you may be fed up with is holes on your shirts, hats or bags.
         b) Custom Magnets Back
With magnets popular, some products begin to use magnets on their back. They are powerful to bear more heavier or bigger buttons. It has bar or circle shape to choose. Magnets are also a great choice and can avoid much holes.
        c) Custom Bulldog Clips
If you don't like the former two ways, it doesn't matter, bulldog clips are also a great solution. It also causes much hole. They can easily to attach on your shirts or turn-down collar. But if buttons are low quality, it may dirty your cloth.

Resource: https://www.purebuttons.com/samples/product-backs-gallery
What are you waiting for? Let your custom buttons do the talking. Each design from size, shape, color to logo and logo is your painstaking effort. You can use custom buttons to do anything. Don't you want to have it? Where to buy or customize? That's a good question. You can choose some experienced custom buttons makers like "purebuttons" or "custombuttons". You can also choose "GS-JJ" with more information about personalized buttons on their website. They provide quality custom service before your ordering, so you needn't to be anxious about your design. The email is Info@gs-jj.com. Looking forward to your consultation!