Military medals are the highest honor in the military, including the army, air force, navy, marine corps, and coast guard.
Military medals are mostly designed and made by military department. If you look carefully,  you will clearly find that there are fewer long medal ribbons used.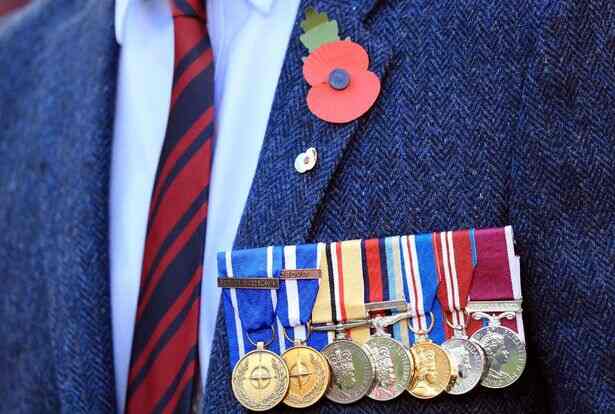 Because soldiers don't wear them on the neck but in front of their chest. They usually use short medal ribbon. These ribbons are multi-color. The size (1.25")of custom military medals is small for wearing easily and beauty. Too large seems to be stiff.
Usually, lots of military award medals are worn. Military medals have magnificent meaning for each soldier.
When Do You Wear Military Medals?
Retirees, veterans, and active service members can wear military medals on their civilian clothes in some events and meetings basing on a military theme.
1. On the commendation conference, memorial day and veterans day, you can wear military medals on your military uniform.
2. You can wear it on the Parade, exhibition and funeral.
3. You can even wear it on some special occasions like wedding on the some countries. It stands for an honor. But you should wear military uniforms.
4. Do not wear medals casually, especially in the daily cloth.
How to Choose Military Medals?
There are 3 types of military medals – enamel lapel pins, miniature military medals and full size military medals. These are special awards for soldiers.
1. On a formal occasion, full size military medals are worn.
2. Enamel Lapel Pins represent a medal, which usually is worn on the suit. It stands for the highest honor. These pins are on the ribbon or metal.
3. If you join a very informal military theme like the evening dress, the miniature military medals will be suitable. They create a less cluttered appearance.
How to Wear Military Awards Medals?

Wear Military Medals
on the Left Chest Pocket
1. These military awards medals are often worn over the left of a formal jacket or coat like a left chest pocket.
2. The center of the holding bar should be parallel to the ground;
3. The most senior medal should be further while the least senior medal should be near the left shoulder.
4. The older military medals should be closest to the shoulder.
5. You just wear military medals no more than one row of them.
6. Don't wear military medals with a handkerchief at the same time.
7. Don't wear other people's award medals.
8. Nonofficial or commemorative awards are worn on the right side.
9. There is no limit about the number of custom military medals only if your medals are not overlapping. Usually, it won't more than 5 medals.
How Military Medals Look Like?
In general, military medals are made with safety pins and ribbon. Shiny and antique military medals are most popular medals. Antique Brass and Shiny Gold is most popular plating.
---
Different countries have different wearing rules. Most western countries observe the rule.
GS-JJ can customize military medals for you, such as air force medals, navy medals, army medals, etc. Each U.S. military medals will be designed carefully because we know that it is very important and treated strictly. If you are interested, you can email at Info@gs-jj.com.

---
More U.S. Military Knowledge:
#1 The Meaning Of US Military Pins
#2 Military Challenge Coins – the Firsts of the Modern Times!
#3 What are Military PVC Patches?
#4 Take Action! Collect Military Rank Coins You have Dreamed.
#5 Look at Military Medals in the Soviet Patriotic War!
#6 Recommended Crafts and Designs for Military Challenge Coins