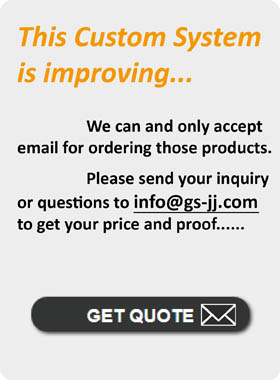 ---
Embossed Wristbands
Wristbands have become an essential part of our daily lives. And this is one of the reasons why there are so many variations and types of wristbands across the world today.
Embossed wristbands are simply the opposite of debossed wristbands. Instead of having the message engraved, it is embroidered on top of the band to appear as though it is curved out. They are no longer just fashion anymore; they carry more meaning than anyone could imagine.
Characteristics:
These are one of the unique rubber wristbands.They are characterized with a message that appears to be just placed on top of the band.
Embossed wristbands are quite subtle, and they present a unique 3D effect with a great embodiment. The impressed text will never come off for as long as you use the band. They don't include ink printing.
---
How Can You Use Embossed Wristbands?
The following are the most common ways you can use embossed wristbands though you can be more creative.
Raise Funds
You may be having a problem to raise funds for your team or an event you are organizing. Getting people to help you out may not be such an easy task. For that reason, you need to come up with an easy way that will ensure people are motivated enough to join your cause.
By using embossed wristbands custom, you can create a team that works together to build something great. Simply place a message on the custom wristbands that tell people exactly what you are doing and encourages them to join you.
Fashion
Sometimes it not even a hustle to have silicone wristbands. You don't even need for something very special. It is just taking it as a way to have fun.
People who love fashion and want to mix color or match them may find embossed silicone wristbands for example very helpful. Choose to wear custom silicone wristbands that match with what you are putting on to bring out the best in you.
The best part is, people of all ages can wear rubber wristbands. Most of them are not very flashy, so they make the person wearing them comfortable.
Embossed wristbands are actually fun to wear anf they are cheap wristbands, and they showcase what someone can do with fashion. If you love fashion, therefore, add in more taste to these bands.
Embossed wristbands can be regarded as event wristbands and are very fashionable today. Have you ever seen how for example tennis players look when they are putting on wristbands? It is so nice the way they appear in wristbands for event .
And that is another reason why people use wristbands. Sometimes you just want to appear unique and stand out in a crowd. By using wristbands, you can get everything you need on that line.
When you have put on your favorite clothing, you might want to blend it up with some wristbands. That is just the fashion of today anyway.
Charity Drive
Embossed wristbands are a great way to get people to join your cause. Sometimes people just need a little motivation to bring out the human attributes in them. The hearts of people always welcome a good cause.
There could be children somewhere that are in need of food and shelter, and you can do something about it. By simply using wristbands, you can get everyone to join your cause and help those people in need. All you have to do is give them something that pushes them a little
To Show Support
Everyone has their favorite sports teams, and those that don't have them still have what they can support. People show their support in many different ways. Some will wear t-shirts and other clothing branded with the name of the team. Others will simply show their support by following the teams where they go.
Another very effective way to show support today is done by using embossed wristbands. Someone can simply purchase wristbands with the name of the cause they support written on top. Or they attend a function where wristbands are being sold with the names of the teams impressed. That is one of the ways you can contribute to what your team is doing.
You can also find cheap embossed wristbands or any other types of cheap wristbands and sell them on behalf of your team. That way you can be able to contribute a lot towards the cause of your team.
If you are a fan of a particular brand for also, you can use wristbands to who that. By wearing that rubber wristbands with names printed or embossed, you are simply saying you support them.
Make and Sell Them as A Business
Sometimes business ideas come from fundamental things that we see every day. You don't have to go through a lot of trouble to come up with something that can make you a lot of money.
People have managed to make a lot of fortunes from simply creating and setting embossed wristbands. The best part being; it is very easy to make them. And perhaps because they are a symbol of strong will.
There are always events happening everywhere. If you can just find out what they are and give them a proposal, you can be able to make a great fortune out of them.
Therefore if you are still wondering how you can make a difference in your life and that of others, maybe you already have the idea. Use them to your advantage.
To Showcase Creativity
There are many talents in the world. Everyone has their own talents, and they use them to help others and themselves.
Embossed wristbands can be used in the same manner too. Those with highly creative ideas come up with great ways to produce attractive pieces for different causes. All these are creative activities, and not everyone can be able to it
To Pass A Message
Embossed wristbands are characterized by an ability to carry a message effectively with strength and emphasis. But for this to be possible, you have to find an expert that can design them appropriately, and one such designer can be found at GS-JJ store where you can get customized embossed wristbands and other cheap wristbands.
Avoid looking like everyone else and choose to stand out from the crowds by wearing a unique and custom-made embossed wristband designed by the professional wristband maker. Place your order now and let GS-JJ store do the delivery. TGhet can also deliver other products such as keychains, lapel pins, belt buckles and patches.
---
Contact Us



We look forward to your inquiry and cooperation. If you have any problems regarding designs, techniques,artworks or other aspects, please do not hesitate to contact us in any of the following ways. Our professional service team will give you the quickestreply. Besides, 24/5 online customer service is provided so you can chat with us online.

Email: info@gs-jj.com

Call: 1-888-864-4755

Address:

U.S.A.: Los Angeles Office address: 20829 Valley Blvd. Walnut, CA 91789

Canada: Vancouver Office address: 27-5880 Hampton Place Vancouver, BC V6T 2E9