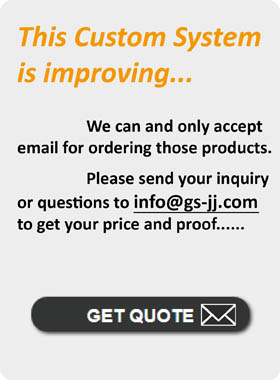 ---
Debossed Wristbands



Wristbands can be a lot of fun today if you know how to select them. The problem is, many people want them, but they have no idea how to identify good bands. One may be looking for debossed wristbands for example but find something that is not so attractive.
In this article share a few ideas on how you can get to select the best debossed wristbands for your occasion.
---
Understand Debossed Wristbands



The first step towards getting the best custom wristbands is to understand them and how they are made. Take it like you are going on a journey that you need first to understand where it all starts. Once you have the basics, you will know where to start and the best route to follow.
It is best if you have some knowledge of what you are getting and it makes your work much easier. Take for example you are specifically looking for custom debossed silicone wristbands; you must know how they look. Otherwise buying them will be like take your arrow and bow and aiming them in the dark.
Debossed wristbands are those that are engraved with your message on them. They are the best decorative custom wristbands you can use for various functions. They carry the uttermost important of these items require that you get the best artises to use the latest technology of creating your message.
---
What Are The Characteristics of Debossed Wristbands?



Debossed wristbands are characterized by a message (of your choice) and clip art or logo if you have it. These features are carved into the latex-free silicone you wear on your wrist. In essence, they are the opposite of embossed wristbands.
You can decide to have ink added to your silicon debossed wristbands to make it stand out more. The secret here is to find someone who can inject ink into them. That is the beauty of using custom wristbands.
You can be able to bargain well if you have basic knowledge of the item you are purchasing for. But how will you tell anyone to give you a fair price when you don't understand even what you are looking for.
Now that you understand them, it becomes easier for you when you want to customize them. Custom silicone wristbands are the fashion today. You buy them then make them according to what you like and how you want them to appear.
---
Take Your Time



One of the reasons why most people don't usually get the best out of anything is because of a hurry. Debossed wristbands also demand concentration and that you give it your best energy.
If you are in a hurry, you will simply go for anything that is placed on the table. But if you take your time to go through the available options, chances are you will discover a lot more than just the items you had in mind. The goal here is to learn as much as you can so that your final settlement will reflect what you had in mind initially.
Remember you are not looking for just anything but the best you can get. With many manufacturers on the market, only through surveying will you achieve your goal.
---
What Do You Prefer?



Sometimes getting something new is all about looking at what you have. Everyone has things they like and those they don't like very much, and that is normal.
Debossed wristbands can come in different colors, shapes, and sizes. Everyone has their own take and feeling about these differences. It is essential that you compare what is available with what you have on your table.
You can make it easy on yourself by simply going for what you like. There are colors you prefer other, and there are styles you would go for. Such things should form the foundation of getting an ideal item that fulfills your desires.
You can buy wristbands the same way you buy your clothes, buy looking at what you have already.
---
Research



You are looking for debossed wristbands, but which ones are trending? Are you looking for metal wristbands or rubber wristbands?
In the modern world, rubber wristbands are more fashionable. The reason is they are easy to find too, and you can customize them any way you want. Debossed wristbands are not as expensive as they may sound.
Even so, you will still have to research the best style for your event. The idea here is to have as much information as possible before you make an order.
---
Try Out Different Sources



There are many variations in qualities of debossed wristbands on the market. What is offered in one shop may be entirely different from what you find in another shop?
Best does not come automatically; it takes time to go through all available options and try out different vendor because not all are the same also. Before settling on one, it is essential that you are entirely sure of the store you are buying from, even if it is an online store.
---
Know What You Want



Another secret lies in knowing exactly what you want. If you go to a shop without knowing what you want to buy, you may end up buying things that you don't need.
This means the message you put on the debossed wristbands of your choice should be well researched. If they are used as event wristbands, you should know that even the colors carry real great significance. Before you thought of coming up with wristbands, you came up with an event first. What are people expecting from your event? Give them exactly that, and you will have an easier time.
---
Have a Goal



Life, in general, is all about setting goals. You must define precisely what you want to achieve with your wristbands at the end of it all. To get the best out of what you are investing in, give yourself a target. If the bands are for raising funds, have a rough figure of what exactly you want to achieve.
If you want to get the best-debossed wristbands, you will have to put aside the idea of expense for a while. This is not to say it isn't essential, but until you have established what exactly you want, then you can bring it on board.
---
Conclusion



While there are many sellers of debossed wristbands, none can beat GS-JJ store when it comes to both qualities as well as price. And as if that wasn't enough, the GS-JJ store can customize cheap wristbands as well as keychains, lapel pins, belt buckles and lanyards for you to fit your particular needs and wants. Buy the wristbands from GS-JJ store and witness the kind of services they offer, you will love it.
---
Contact Us



We look forward to your inquiry and cooperation. If you have any problems regarding designs, techniques,artworks or other aspects, please do not hesitate to contact us in any of the following ways. Our professional service team will give you the quickest reply. Besides, 24/5 online customer service is provided so you can chat with us online.

Email: info@gs-jj.com

Call: 1-888-864-4755

Address:

U.S.A.: Los Angeles Office address: 20829 Valley Blvd. Walnut, CA 91789

Canada: Vancouver Office address: 27-5880 Hampton Place Vancouver, BC V6T 2E9