You will not regret looking at high quality lanyards
here
! DON'T MISS THEM!
See More >>
Free Quote / Quick Order

Create Designs Instantly
Simply add you text and explore dozens of customized layouts.
Get Started >

LOAD PRICE LIST
| | | | | | | | | |
| --- | --- | --- | --- | --- | --- | --- | --- | --- |
| SIZE | 50 | 100 | 300 | 500 | 1000 | 2000 | 3000 | 5000 |
| Lanyard Size: 1/2" x 36" | Pre-discount | Pre-discount | Pre-discount | Pre-discount | Pre-discount | Pre-discount | Pre-discount | Pre-discount |
| Lanyard Size: 5/8" x 36" | Pre-discount | Pre-discount | Pre-discount | Pre-discount | Pre-discount | Pre-discount | Pre-discount | Pre-discount |
| Lanyard Size: 3/4" x 36" | Pre-discount | Pre-discount | Pre-discount | Pre-discount | Pre-discount | Pre-discount | Pre-discount | Pre-discount |
| Lanyard Size: 1" x 36" | Pre-discount | Pre-discount | Pre-discount | Pre-discount | Pre-discount | Pre-discount | Pre-discount | Pre-discount |
Badge Lanyards
Security at work and employee identification are some of the pressing issues which most employers think about. Most companies and organizations have made it mandatory for their staff to wear or carry photo identification or security badges during working hours to easily help security personnel identify them. This helps to reduce theft and security breaches at places of work.
With this growing trend, the need for ID badge lanyards to hold these security badges has increased considerably at most organizations of firms. They make it very easy for staff to carry their means of identification at their respective places of work. Badge lanyards come in different sizes, shapes, and designs, and they are the best way for employees to display their ID cards. This kind of custom lanyard is essentially worn around the neck during working hours with a rope-based necklace to attach the badge onto it.
In places of work where the ID badges are required to be visible at all times, badge lanyards are the preferred choice. This will help the employee to easily provide their respective security badge when asked to at any time of the day, and the pull-out cord allows them to easily show the badge without detaching it from their person, minimizing the risk for loss. Most times, the employee might not need to truly show the badge for verification if a lanyard is being used to keep it in place.
For employees who are concerned about the risk of snagging their ID badges around the work environments, or for those who work with or around heavy-duty machinery with flexible moving parts, ID or name badge lanyards are the best choice. They help to secure the employee's ID badge very close to the body, thereby reducing every potential risk of an accident or mishap while working.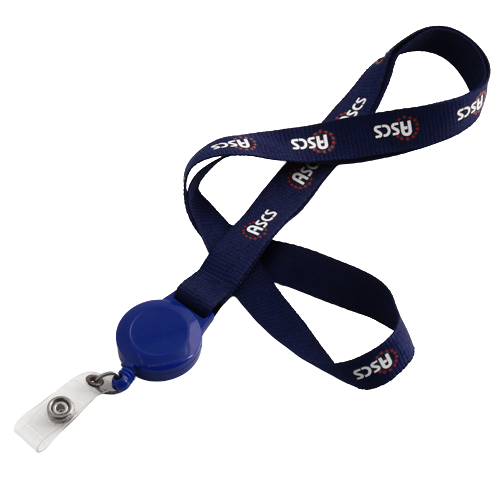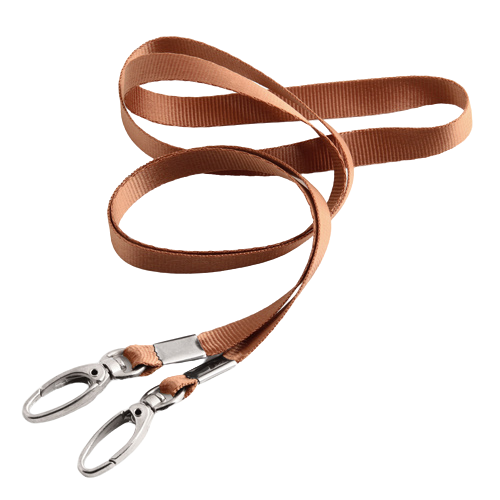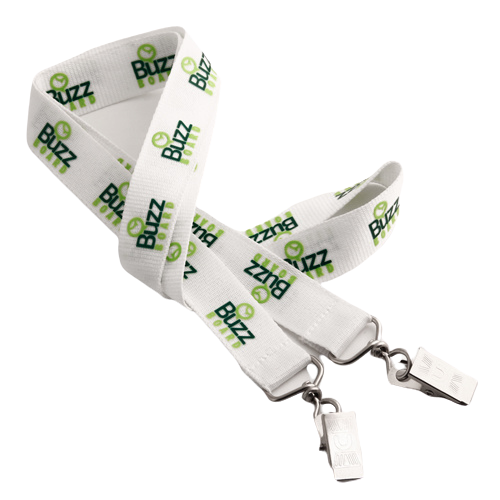 ---
Types Of Badge Lanyards
Just like most custom lanyards styles, badge Lanyards have different types, designs, and purposes for its use. Some of the popular badge lanyards styles include;
Custom ID Badge Lanyards

Custom Name Badge Lanyards

Custom Retractable Badge Lanyards
ID Badge Lanyards: Just like the name suggests, ID badge lanyards are used to hold identification badges by employees at their place of work.
Name Badge Lanyards: Name badge lanyards are a unique, and cost-effective way to display a name badge. They come in different sizes and shapes for easy display, and the name badge can be easily inserted and removed without stress. One of the advantages of name badge lanyards that makes them stand out is flexibility. They are suitable to use at conventions and big gatherings to help identify delegates and attendees. The most distinct feature of retractable badge lanyards is that they can easily be separated, and they add an extra feature design and special features for badge holders with ease of use. These style of lanyards for badges have a break-away connector attached to the badge lanyards, and the badge can easily be detached from the lanyard by pulling the connector away. Retractable badge lanyards are very comfortable, and easy to wear and carry around. An obvious choice for most employers.
---
Choose The Right Badge Lanyards
Choosing the right type of badge lanyards can be quite tricky and unnerving. Now, we've talked a lot about badge lanyards, it's properties, types and different styles, so this should give you an insight as to the type of badge lanyard which should work well with your project. However, before making your choice, these set of questions listed below would help guide you to make the right purchase.
Is the badge lanyard being used for a long-term project or just for the time being?

What is the nature of the environment in which the badge lanyards will be used, would they be used in factories or industries?

What kind of badges would be used for the lanyards, Identification badges, security badges, or just name tags?
Providing answers to these questions would help you make the right choice and select the perfect badge lanyard. Take, for instance, if you intend to use the custom lanyards badge for short-term purposes like for a convention, large gathering or public events, then a name badge lanyard will be just perfect.
For companies and firms, another important aspect that should be considered when choosing the right badge lanyards is the color. Select a color that blends well with employee uniforms for easy identification. Ideally, those who wear professional attires usually prefer dark or white-colored badge lanyards, while people who work in casual settings or work environment with lots of machinery can settle for bright colored badge lanyards. Also, ensure that your choice of badge lanyard color rhymes with your brand's logo or employee uniform.
For organizations which promotes specific cause or ideas, this is very important. Take for instance, if it's about spreading awareness and educating people on breast cancer, the color PINK would be perfect, or if its about blood donation, Red-colored badge lanyards would do the trick.
---
Why Choose Our Badge Lanyard?
GS-JJ is a household name in the production of high-quality custom lanyards, and our products are relatively cheap, pocket-friendly, and very affordable. Our expertise is of industry standard, and the quality of our products speaks great value of the extent to which we can go just to satisfy our clients.
At GS-JJ, we are not restricted to the production of the regular style of lanyards; we also produce high-quality and cheap badge lanyards, retractable lanyards, ID Badge lanyards, Name badge lanyards and a host of other related products like lapel pins, keychains, wristbands, and medals. We accept custom orders, and our renowned work ethics ensure that we can meet up with the production schedule.
If you desire high-quality custom badge lanyards, at the cheapest possible cost without compromising quality, then GS-JJ is the brand of choice. We also provide cheap lanyards including special designs and additional features to make your custom badge lanyard stand out from the crowd. Whatever your needs, at GS-JJ, we are well equipped to provide them for you.

PROFESSIONAL DESIGN TEAM
Quick Quotation
PROFESSIONAL DESIGNERS! Our award-winning team can help with your design or create personalized customized products for you!

Get Quote / Order Here

ONLINE DESIGN SYSTEM
Design+Quote+Ordering
Use our unique design system to take full charge of your artwork. Be your own designer!

Design It Yourself Online

Customize
X
GS-JJ Custom Lanyards have Automated Quotation System for Lanyard, you can easy to Select what your Lanyards Custom needs online. Free Shipping

Latest Blog Posts
Featuring Designs, News & Information About Custom Lanyards