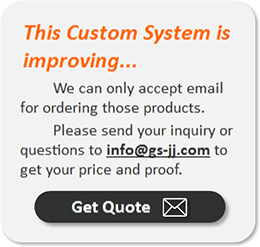 To Know What Are
Printed Wristbands

Printed wristbands are those that have the message printed on them by the ink injected process. Just from the name "printed", the message on custom bracelets is not embossed or debossed.
Printed wristbands have become a love of many wristbands users. They can be printed with simplicity and also can be customized with uniqueness.
The custom contents can be printed by various colors of ink that make these plain silicone bracelets more colorful and meaningful.
Will You Be Confused
The Printed Wristbands With The Blank One?
Someone may confuse printed wristbands with blank wristbands easily. This is because they all probably have a very simple design. All rubber bracelets with screen printed craft came from the blank ones, because the printed wristbands are first formed in the mold in the form of blank, and then printed in the post process.
The difference is that blank wristbands don't have anything written on them though they may be of different colors. Printed wristbands, on the other hand, usually carry a specific message or something related to them.
In a word, both the two styles are simple and easy to make, just depend on which style you prefer.
Printed
Wristbands
Printed wristbands also are a kind of simple rubber bracelet, but they should be printed various custom messages on the bands before delivery. The messages are usually specified by customers and not casual.

Blank
Wristbands
Blank silicone bands can give you enough space to DIY at home, you can paint whatever messages on the blank wristbands or just keep their simplicity and leave them blank.

How to Customize

Your Own Printed Wristbands?

What do you want your printed silicone wristbands to achieve? And where do you want to use them? What kind of color do you prefer? This kind of element you should consider before you set a goal to customize printed wristbands.
When you buy something new, you need to know them first. And so does buy a printed bracelet. As the word "printed" implies that these custom silicone bracelets are printed some kind of messages clearly.
Anyway, when you order printed wristbands, you should know the purpose you customize them that you can choose suitable design and style accordingly for your event.
• Come Up With a Good Message

• Choose Right Ink Color

• Choose a Suitable Style

• Find an Expert To Make

The first step of creating custom printed wristbands is to come up with a clear and specific message.
The message you want on your wrist bands depends on the event that you want to get involved in. If it is a charity event for example and you want to use these printed wristbands to raise awareness among people and raise funds for it, by the way, the messages you choose to print on the wristbands should clearly close to such kind of subject.
If you are making them support a team, the message should contain the logo of the team. Such simple things can help you come up with message ideas.
One of the challenges of creating printed wristbands--though many may not be aware of- is making the message clear. And this is literal clear and not regarding the wording. You have to distinguish the color of the message and the silicone wristband itself in such a way that the printed contents can be seen clearly.
For example, if the custom made wristbands are white, what happens if you use white color for the text? Obviously, the text will not be seen by anyone but you because only you know it is there. So you should avoid the same color, which uses in the printed process. Anyway, the color of the wrist bands and the color of text on the custom silicone wristbands are a matter of consequence.
There are always many custom options when you customize personalized wristbands, such as embossed wristbands, embossed printed wristbands, debossed wristbands and debossed wristbands with color-fill, figured wristbands, "1" wristbands, and then these printed wristbands. And what kind of silicone wristbands do you like best? Or which one is the most suitable for your event? These rubber bracelets will be an essential part of your campaign; they play not only the role of fun and fashion but also the wonderful promotional items to raise awareness of your event. So this is why you need to put in a lot of efforts.
The next step will be now to find a professional maker who can provide cheap wristbands to produce for you. Printed event wristbands usually carry a lot of messages, such as logo, patterns, fonts, artistic letters and so on. You can look at the samples they have done in the past and used that to judge their competence and whether they are experts. Because these event wristbands are going to play an essential part in your campaign, if anything is wrong, people will look at you and not the person who printed them.
WHY

are These Printed
Wristbands So Popular?


Any kind of silicone wristband is made of 100% silicone material with latex-free, compared to the Tyvek wristbands, vinyl wristbands, plastic wristbands, and other wristbands made of solid material, these printed wristbands are soft and comfortable to wear, people of all ages can wear them safely. And then, the following reasons also are the reason why they are so trendy among people.

【1】 Make Them Funny
One way to make them fun is to come up with a message that is entertaining.
When people look at it, they should get everything clearly and also enjoy what they see. Therefore, you need to make them various. Various patterns, logos, fonts, etc. can be created on them depends on your preference.

【2】Make Them Meaningful
Custom wristbands are so often made for some perfect activities. Funny silicone wristbands with a certain message can embody a specific meaning.
You may realize that rubber bands are usually used for entertainment purposes, such as a concert, showing the support to whom they love; sports meetings, distinguish between groups and so on.

【3】Easy to Make
Printed wristbands are easier to make than others with the complicated craft. The production time is shorter thus it can be delivered soon.
And the cost is lower than those with complex craft, but they are as beautiful and exquisite as those complex items. People in a hurry need can choose them without any hesitation.
Why is
Quite Important
To Choose a Professional Maker?

Printed Contents Are Quite Long Lasting
This part brings us back to why you need the best person to do the printing for you. If you tooled a pen to write on a wristband, the ink will hold but not for long.
Custom printed wristbands for events are not a one-time using. You cannot say that you want something that won't last. Even though the event might happen only ones, the wristbands will stay.
One of the reasons why you should keep the custom wristbands is that you can use them as a way to remind yourself of what happened in the past. They should, therefore, be printed to last a long time and not to wash off easily when you contact with water.
Can The Paint Come Off Some Time?
This is simply a matter of professionalism. The color of printed contents can come off, but it all depends on how you created and used them. And that is part of the reason you need to get a professional maker to print them.
Sometimes, however, the colors may just come off eventually as it ages. But this is not something that happens overnight.
While an expert who serves in the printing realm can do this work more skilled, and make your printed contents as long as possible.

WHERE

Can Buy High-Quality Printed Wristbands ?

• Wristbands, in general, are helpful in modern society. And printed wristbands, in particular, are not just things of beauty for people to look and admire but that have become part of our daily activities.
• They are used for marketing, promoting events, boosting people's general outlook and so on. Understanding them and finding a skilled place to create them become something of importance.
• Buying printed wristband can be the best investment for you, as it will serve many purposes, other than the obvious--beauty. Visit the GS-JJ store and order your favorite printed wristband or other types of wristbands.
• GS-JJ store also has many other types of custom products which include keychains, lapel pins, belt buckles, and patches, order now at the preferential price here.
Why Do You Choose GS-JJ for Your Cheap Wristbands?
Our professional service team will give you the quickest reply. Besides, 24/5 online customer service is provided so you can chat with us online. If you have any problems regarding designs, techniques, artworks or other aspects, please do not hesitate to contact us in any of the following ways. We look forward to your inquiry and cooperation.
1
100 % silicone material will be provided.
2
24 hours online service offered on a business day(24/5 online customer service).
3
Free shipping , various message styles provided.
4
You can chat with us online directly or by dialing 18888644755.


Design+Quote+Ordering
Use our unique design system to take full charge of your artwork. Be your own designer!
Design It Yourself Online
Quick Quotation
PROFESSIONAL DESIGNERS! Our award-winning team can help with your design or create cool pins for you!
Get Quote / Ordering